Sickles Wins First State Title, 4-2, Over Viera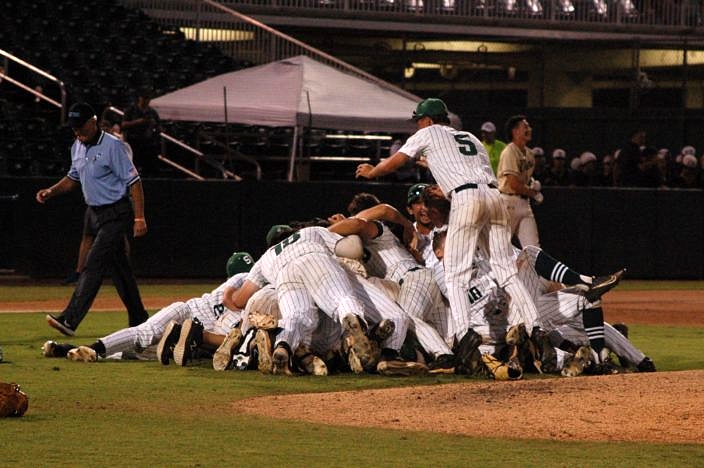 Box Score
For the first time in school history, the Sickles Gryphons are state champions.
Manager Eric Luksis led his team to its first state semifinals appearance since 1999 a year ago, but the Gryphons (30-2) fell short against the eventual state champions, Doral Academy, by a run, in extra innings, after a rain delay. That was the 2022 team, though. This year's club outlasted Mother Nature and won it all with a 4-2 victory over the Viera Hawks (24-6) Wednesday afternoon.
"This has been a special group all season long," Luksis said. "These guys have worked their butts off to be in this position. To get here last year like we did and to fall a little bit short, these guys stayed hungry. We got better every single day. These guys came to work every single day with the ultimate dream and goal of getting back to this game and winning this game."
Coming into the championship game, Luksis wasn't sure which arm he would go with, but the decision to throw junior right-hander Cameron Guise proved to be a good one. Guise struck out six over five innings and gave up just two unearned runs on four hits and no walks.
"We made the right call," Luksis said. "Cam has been a guy for us all year where he's platooned with being a starter anda bullpen piece. The last couple of weeks he's really established himself as the No. 2 arm for us."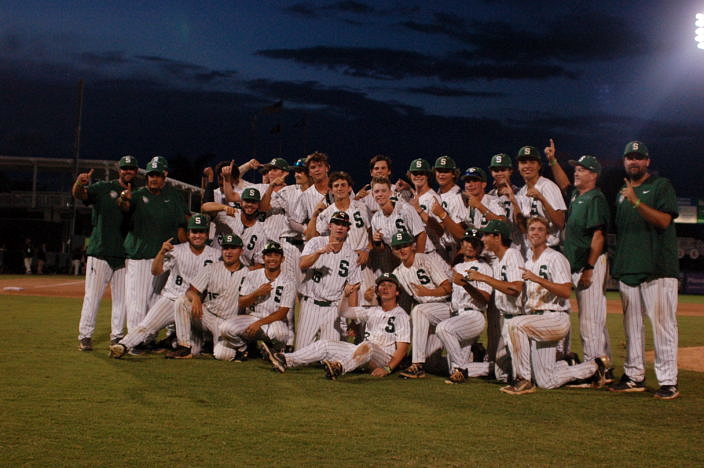 All of the scoring came early in the game. Viera intentionally walked Caden McDonald (12 HR in 2023) in the first to load the bases for senior catcher Justin Allen, who singled to left center field and scored Connor Vance and Hayden Yost.
"I mean, I thought (walking McDonald to get to him) was disrespectful," Allen said. "Obviously, Caden is Caden. He's had an absolutely phenomenal past two seasons… We just wanted to come out as the aggressors in this game and establish a dominance early. I think we were able to do that."
Jordan Yost drove in McDonald to make it 3-0, but Sickles fought back immediately. A fielder's choice and sacrifice fly in the top of the second made it a one-run game, and then Sickles got one back in the bottom of the frame on a Hayden Yost sac fly.
A lightning delay stalled things in the bottom of the fifth, and neither team scored for the rest of the afternoon. Eventually, the rain stopped and Luke FIkar took over to finish things off for Sickles. Fikar didn't allow a hit in the sixth or seventh, securing the first state title in program history.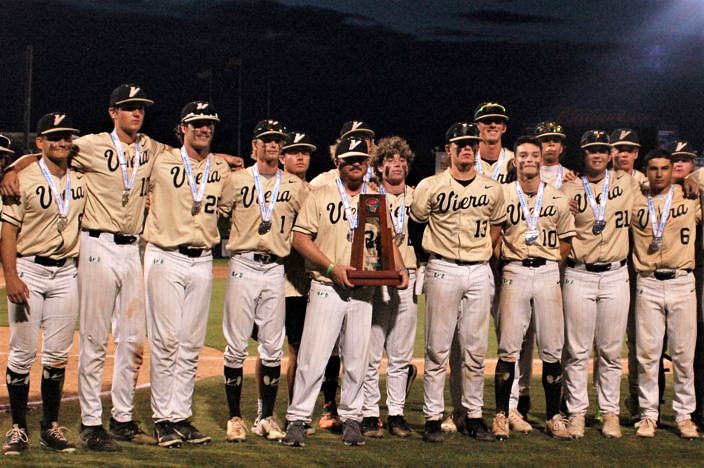 For Viera, this is the second time in three years that the Hawks have made it to Fort Myers, and the seniors have set a new standard of success for the program. The hope is that the juniors from this year will be ready to replace a dozen graduates and take the final step to finish on top of Class 6A in 2024.
"I'm so proud of these guys," Hawks manager Brock Doty said. "We've had 12 seniors that have been the glue for this team for many years. The only reason we're sitting here today is because of them. It didn't turn out the way we wanted, but that's the way it goes. It's baseball."
Doty praised his team for their resilience. The delay hurt any momentum that was building in his team's favor, but they still battled until the very end.
"There's no up-and-down with this team," he said. "We were just talking about it before that last half inning. Our first game of the year, we were down 4-1 in the seventh. I told them we've been here before and we can do this, but it just didn't turn out that way."