Jesuit Takes Down Sebring, Returns To 5A State Final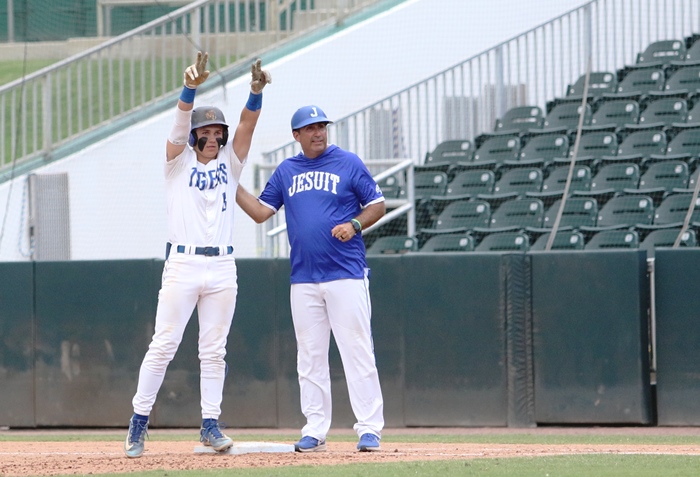 The Jesuit Tigers are one of four teams looking to repeat as state champions in 2023, and Monday afternoon's 3-1 win over the Sebring Blue Streaks brings the reigning 5A champs one win away from winning it all.
But this wasn't the dominant win the Tigers thought they might put together by any means. Jesuit had to manufacture runs on the base paths and protect a two-run lead following an hour and 18 minute-long lightning delay. That's where the program's championship pedigree showed. Depth is the ultimate sign of a perennial winner, and the Tigers handled the pause like it was barely even a hurdle.
"It probably helped that we had a lightning delay in our regional semifinal game against Naples at our place," Tigers coach Miguel Menendez said. "So I think we had some experience to draw from there. For us, too, we have a lot of quality options we can go to out of the 'pen. As much as we'd love to let Wilson (Andersen) finish the game out, and I'm sure he wanted to finish it out, we have the luxury of knowing we have some other guys in that moment."
Anderson was the second pitcher of the day for Jesuit, following 4 1/3 innings from starter Aden Knowles (NC State). Sebring's lone run of the game came in the second after a leadoff triple from Cole Travers and a follow-up RBI single from Dalton Percy, but Knowles settled down after that. Andersen, a freshman, had retired five straight before the lightning hit.
"For us, it was kind of a 12-out game," Menendez said. "If we can get to 12 outs with our starter, and we knew we could turn it over to Wilson and have Derek (Westfall) on the backend to close it out and try to keep them under 45 pitches to have them ready for Wednesday as well. That was the idea."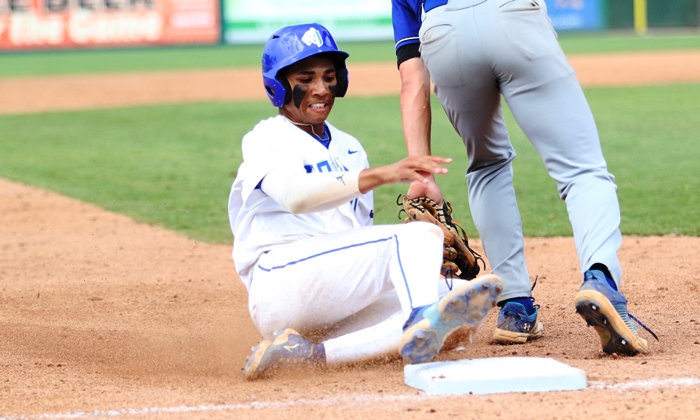 After Sebring scored its run in the second, Jesuit answered immediately. Jacob Lozano drove in Vincent DeCarlo (NC State), who reached on an error to lead off the frame.
Sebring starter Rhett Vaughn kept Jesuit at bay for most of the afternoon, finishing the day after 6 2/3 innings and three unearned runs on six hits and two walks. The delay forced him out of the game, and Trevor Carter came in once play resumed.
Sebring typically plays sound defense, but three errors on the day proved costly for the Blue Streaks.
"We didn't have a bounce go our way today," Blue Streaks manager Jason DeWitt said. "We had a couple of balls ricochet off a glove or tip off a glove and that was the difference. Everything was a little off on our side. We just didn't get that one hop that we felt like we were going to need to be able to get the win and they got that hop to get the dub."
Grant Jordan broke the tie for Jesuit in the fifth inning with a single into left field, scoring Clay Thompson. Noah Sheffield added a massive insurance run in the bottom of the sixth thanks to a wild pitch and the ball being thrown into the outfield.
"Like coach said, it was a pretty slow game," Sheffield said. "I think we could have done a lot better, but we just had to find a way to create runs, whether it was infield singles or RBI singles. I just had to hustle as much as I could to pick up my teammates and win this game."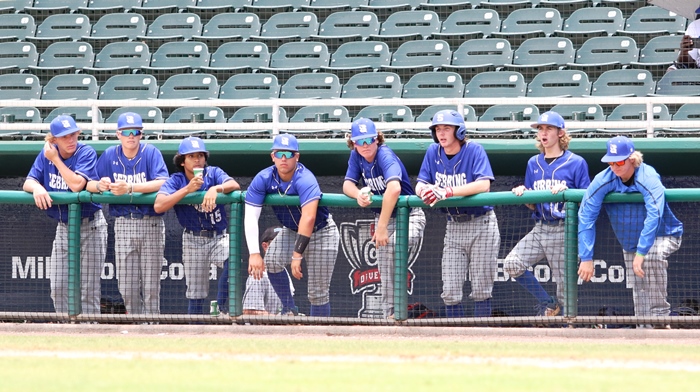 For Sebring, this marks the end of one of the best runs in program history. The Blue Streaks have only won their region three times, and the last two were in 2007 and 1966. For a small town school, the Streaks traveled well, and DeWitt expressed his extreme gratitude to the community following the game.
Now the journey back to Fort Myers begins for Sebring.
"Not many people are expecting the little town of Sebring to come out here and have the talent that we do," Vaughn said. "I feel like if we just keep our heads down and keep grinding, there's no limit. We have all the talent that these big schools have. We just need to realize it and stay focused and come back next year."
Fortunately, the team isn't losing a ton from its starting lineup, but next year might be even more difficult now that word is out about the Blue Streaks.
"We lose three seniors," DeWitt said. "We've got a lot of guys coming back, but it's not a guarantee. They just can't be satisfied to get here and automatically say that we're going to be back. Because we faced everyone's best this year, there's no doubt about it, and now that bullseye is going to be on their back for sure."
Jesuit will face American Heritage-Plantation at 2 p.m. on Wednesday in the Class 5A State Championship.