Dunedin Drops Pitching Duel Against Jensen Beach In 4A Semis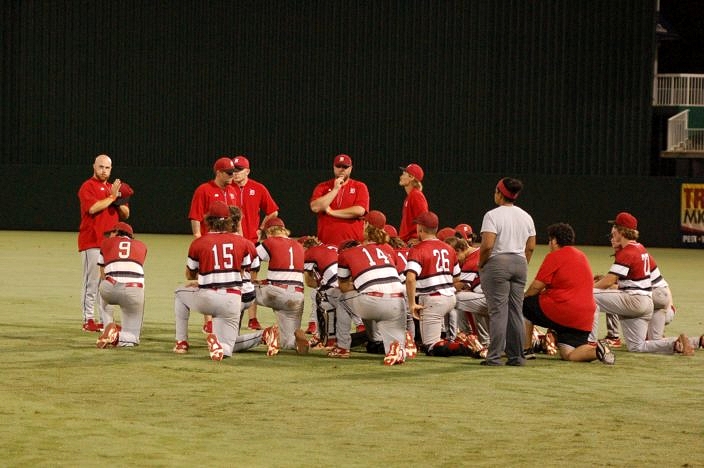 Jensen Beach and Dunedin didn't get started until around midnight Monday night, but the battle of the Falcons was worth staying up for. Both teams treated the fans to a pitching exhibition that finished in Jensen Beach's favor, 2-0.
Dunedin threw their ace, FAU commit and state strikeout leader Trey Beard. Jensen Beach had Chris Knier on the mound and he matched Beard for three innings until he got the chance he'd been looking for all night. With a man on third and runs at a premium, Knier waited for the high fastball and split the right side of the infield to break the tie. Parker Ward scored the run, and that was all Jensen Beach needed to win the ballgame.
"I was very confident," Knier said. "I knew he was a good pitcher. I thought it was going to be a 0-0 game for the whole thing, but I was hoping we could put up some numbers and that I could help myself, which I did… I was seeing (Beard's) pitch sequence a little bit, and I see that he loves to leave his fastball up. He did have a little rise to it that made it hard to hit. I figured keep it short and sweet and put a little piece on it."
Knier, who has several college offers but is still uncommitted, finished the night with a three-hit complete-game shutout. Beard wasn't bad himself racking up 10 strikeouts in 5 1/3 innings, but he reached his pitch count and had to be removed.
"I told the kids that (Beard) is a great pitcher that's going to do great things, but our guy was a little better," Corey Cooke said. "I'd got to bat for this kid any day. I mean, he's put up insane numbers this season. We knew we had to match him, so I said I'm going to give him my best, and I like those odds every time."
It's a big win for a Jensen Beach program that's never made it to the state championships before. In fact, eight seniors on the team missed their graduation for a shot at making school history. They can check that box off regardless of what happens tomorrow, but Cooke doesn't see a reason not to finish it out since the team has already come so far.
"It's incredible," he said. "This is something we all strive to do. It was something we didn't hide from. I knew what I thought we could do as a team and we challenged them right from the beginning. We said the school record is 22 wins. We've never won a regional before. Let's go out and get it. And now that we're here, it's like why not keep going?"
For Dunedin, it's the third time in four years that the Falcons have left Fort Myers following a loss and it'll take at least another year to get over that hump. It is manager Brett McCarty's first year at the helm, though, and the team is returning most of its players. Some coaches will default to calling a big loss a learning moment, but it's never been more true than in this instance.
A quartet of seniors will be moving on following graduation, but the bulk of the lineup returns with a year to mature physically. Emotionally, there's little growing up to do for this club. As teammates consoled one another following the loss, McCarty made sure to take a moment with each of his players.
"These guys love the game, but, more importantly, they love each other," McCarty said. "That's what it takes to be great. When you're willing to do whatever it takes for the guy on their left or the guy on their right. So, I have no doubt these guys are going to be great for the rest of their life."
In truth, it was surprising to see Dunedin finish the night with just three hits given that the ball was regularly being barreled throughout the night.
"Hats off to Jensen Beach and Knier. He threw a heck of a game," he said. "He was on, and we hit the ball hard a lot right to guys. Some of them didn't fall. I mean, the diving catch in left in the sixth (hurt). When Trey was up, we had the best part of our lineup behind him and just hey, they made some great plays. We hit the ball hard, just right to them too."
The defense was the saving grace for Knier and the Falcons of Jensen Beach tonight. They'll need to be just as slick on the field roughly 17 hours after the biggest win in program history to complete the mission, though. Cooke says his team is ready to play and isn't letting any sort of adversity hold them back from giving it everything they have.
"It's tough for everybody," Cooke said. "They (Island Coast) were in their game and had to get up and get down several times, so who knows who has the advantage? Look, it's two great teams. It's two teams that probably should win a state championship, right? whoever plays the better game tomorrow is going to win and there are no excuses on our end."
The first pitch of the FHSAA Class 4A State Finals is set for 7:00 p.m. barring another weather delay throughout any of the three games set for Tuesday.