Magical Playoff Run Continues For Out-Of-Door Academy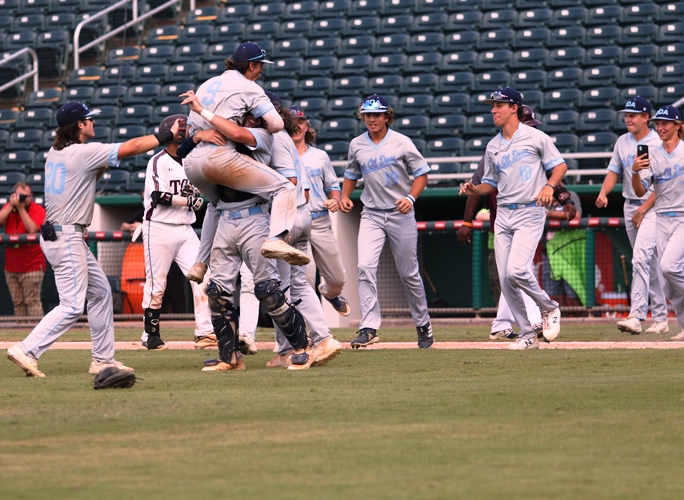 The Out-Of-Door Academy continued their magical playoff run on Wednesday afternoon, scoring four runs in the top half of the seventh to defeat Trinity Christian 5-2, and advance to the 2A state championship game against St. John's Country Day.
The Thunder have become accustomed to falling behind in the regional playoffs and then turning it on just in time to save their season. The four run seventh Wednesday, came after Out-Of-Door shocked perennial state power Canterbury with six runs in the seventh of their regional semifinal match up two games ago.
"It has been incredible to see how these guys have fought back in these games," said Warrior Manager Mike Matthews. "These guys did everything they needed to do today to get the win."
What the Warrior offense did was put pressure on the Trinity defense in the final frame.
Angelo Allievi started the game on the mound for Trinity, and went five innings, allowing only two hits, while striking out seven. Allievi hit his pitch count limit, however, after the fifth.
DeShaughn Forbes relieved Allievi, and threw a scoreless sixth inning.
In the seventh, the Warrior offense caught a break when a lead-off error put Aiden Marino on second base with the tying run. A perfectly placed sacrifice bunt attempt turned into a base hit for Ryan Kelly. After Kelly stole second, Nolan Naesse walked to load the bases.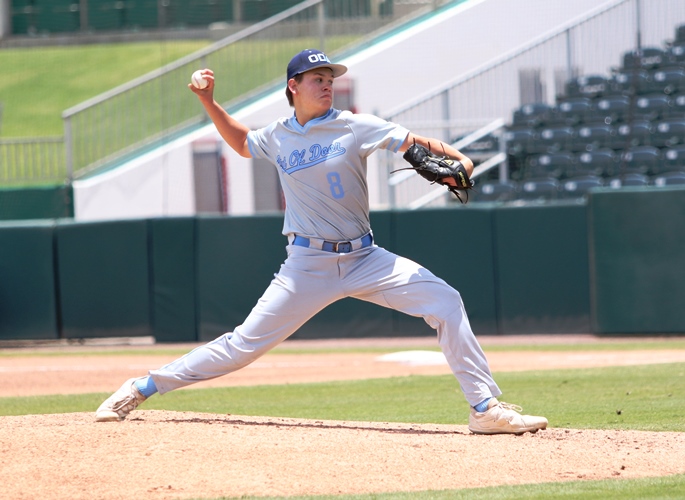 After a strikeout, Nolan Lewellen dropped a bunt of his own, scoring Marino. A bases loaded walk, and a bunt hit made the Warrior lead 5-2.
By the end of the inning, Out-Of-Door had scored four runs, while only hitting one ball out of the infield.
"We were not sure how we were going to handle that last inning, but once we saw that they were having some issues handling the bunts, we knew we were going to keep going back to it," said Matthews.
For Trinity, the lack of compusure on the bunt plays was something new for Manager Miguel Cuello's team.
"We had put a pot of focus and practice the past few weeks into working on those types of defensive plays," said Cuello. "It is not something we have had much trouble with up until today. But today, it obviously changed the game."
The other aspect of the game that hurt the Warriors was their offense with runners on base. Trinity stranded 10 runners on base in the game.
"We left too many runners on base today," said Cuello. "A big hit here, or there, and maybe it would have been a different game. But when you don't get hits in those situations up here, it usually is going to cost you."
For Out-Of-Door, it took three pitchers to combine to shut down the Trinity offense. Luke Geske threw the first three innings, allowing one earned run, and then turned the ball over to Carter Dierdorf, who allowed no runs in his three innings of work.
At the end, it was Tyler Colditz who was able to shut down Trinity in the seventh, and send Out-Of-Door to their first-ever state championship game.
Their opponent in that game, St. John's, defeated Mount Dora Christian 3-2 in the other semifinal.
"We didn't get to watch too much of their game this morning," said Matthews. "But we know that they are the top team in the state in 2A, and we know we have to come out and play our best game against them."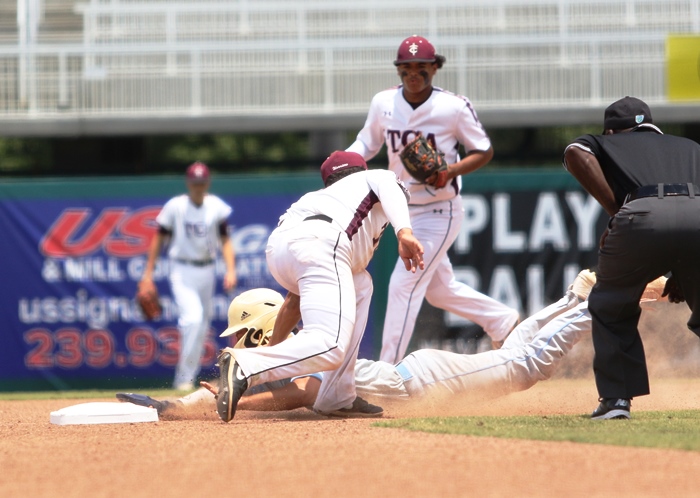 As for the confidence the Warrior team is feeling, Geske summed it up best.
"We have had some big comebacks so far, and we feel we can comeback and win these tough games."
On the other side, Trinity will have to wait until next year for another shot at a title.
"We were a young team this year, with only three seniors," said Cuello. "We basically were a year ahead of schedule. The guys played well to get to this point, and now the young guys have to work hard, and come back ready next year. Now they know what it takes to get here."