Durant Falls To Spruce Creek In Extra Innings
Photo Gallery
Behind a relentless defense and a dominant performance from starter Brandon Neely, the Spruce Creek Hawks played their way back to the state championship. Neely delivered eight scoreless innings and the Hawks finally broke up the scoreless tie with a run in extra innings to earn a 1-0 win over the Durant Cougars, in Friday's Class 7A state semifinal at Hammond Stadium.
Spruce Creek (23-8) advances to the state championship, where it will take on the Douglas Eagles (27-2). Douglas also advanced with a 3-2 win over the Columbus Explorers in Friday's other 7A semifinal. The Hawks will be competing for their second state title, after winning it all in the 2012 season.
"It was a heck of a game, and it is what it is, as we expected it to be," Durant Manager Butch Valdez said. "In the Final Four of the 7A bracket, you've got to expect that it will be a good game. We did what we could and it just rolled the wrong way."
Neely continued to do what he has done all season on the bump. The senior right-hander improved to 8-2 on the season, while picking up his fourth playoff victory. He struck out 10 batters while allowing three hits and two walks, and no Cougars ever so much as reached third base.
"We knew that Neely was going to deal and that he was going to be tough, and that we would have to play small ball," Valdez said. "We only had a couple of hits on the board, so we had to do the small ball, and we didn't execute. There were a couple of opportunities where we just did not perform well. We've said it all year that he who makes the fewest mistakes is going to win this game."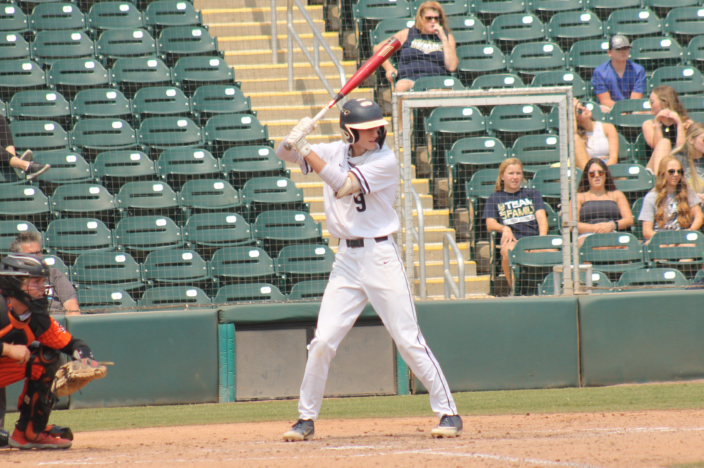 Across the diamond, Durant rolled out their own arsenal of pitching to match. Senior Sean Hermann made the start and carried his team into the eighth inning also without allowing any runs, before exiting with one out after reaching his pitch limit. Hermann allowed four hits and struck out nine, and he did not issue any walks. He also hit one batter.
"It was the performance that he has always put up," Valdez said of Hermann. "You know he is a bulldog in the fight, and all the guys are that way. He wants to win for the team. It's never been about him; it's always been about the team. I wish we could have produced the runs. It hurts me more than anything because we couldn't produce runs for him."
The only run of the day finally came in the top of the eighth inning. With two outs, Corey Robinson singled on a shot that sailed over the third baseman for a base hit. After Robinson swiped second to get into scoring position, Dalton Hurst connected on a 1-2 offering and lined an RBI double to right field.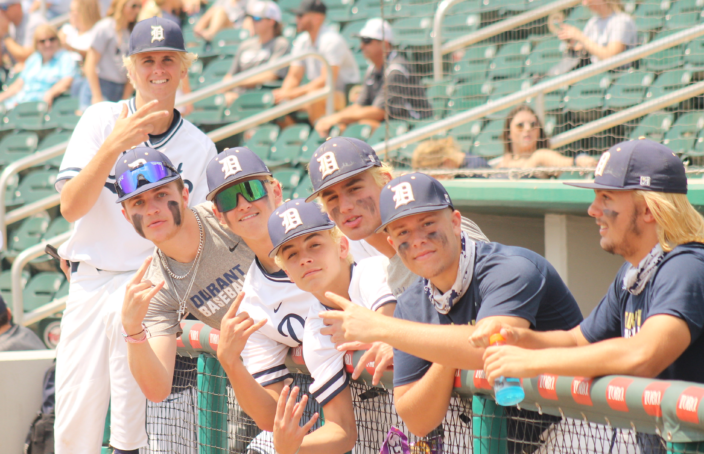 "We'd been under the baseball the whole game, and my main goal was to hit something hard on the ground nd use my speed to my advantage and make them throw me out," Robinson said. "When that ball got through and I was on first, I knew that if I take second then Dalton would get a hit and we were going to win the ball game. Really, it was just up to me getting there."
When Hurst saw the delayed steal sign, he decided that he would rather hit with two strikes in the count but with Robinson at second base than to make an out on one strike and not give the speedster the chance to reach scoring position. With two strikes on him and no margin of error left, he delivered just as he has all season long as the best two-strike batter on the roster. He jumped on a fastball away and came through with the biggest hit of the day, even though that pitch location is not normally in his wheelhouse.
"It was my wheelhouse in that moment," Hurst said. "I just went up with my approach and did my thing and drove him in."
Both teams had numerous opportunities to break the game open much sooner, but struggled to come up with the big hits. The Cougars (22-6) were unable to execute on several bunt attempts, including an infield pop up with a runner on first that got doubled off following the catch.
"We did not execute the small-ball game. That was the key for us," Valdez said. "We got doubled off with the leadoff man on first base, and a sacrifice bunt turned into a double play. We missed a hit-and-run and got Oscar Fernandez thrown out at third base. Those were the fundamentals that we just didn't capitalize on. We've done it throughout the season, we just didn't do it today."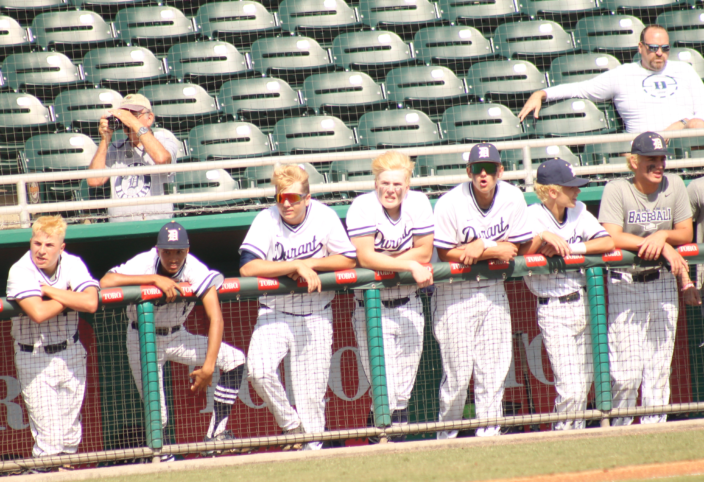 Yet for all the struggles offensively on each side, the defense kept bailing them out. The Cougars did not commit any errors to back up their pitchers.
"We performed very well today," shortstop Aiden Welsh said, "Just like Coach says, the one who makes the fewest mistakes wins, so we just tried to back Hermann up with defense. We didn't have the bats today but we played good defense."
Hermann admitted that his defense helped motivate him to keep pounding the zone and do his part.
"You just have to battle for your team. It is a team game," Hermann said. "When I'm out on the mound, I feel like the entire team is out there with me. It's up to me and I just have to grind for my team. They had confidence in me, and I have confidence on the mound. I was throwing my curveball a lot today, and I haven't really done that all season. I was throwing it in there on 0-0 and getting it there for a strike."
Meanwhile, the Cougars put together better at bats the deeper into the contest they got. The second time through the order they made key adjustments that helped find some holes and get some runners on base to try and break it open.
"Until you are at the plate and seeing what the zone is of the umpire, and what the pitcher is actually doing and all of his body mechanics, it takes a round to get through there," Valdez said. "We made some adjustments and tried to capitalize on it. But he is a heck of a pitcher."