McCarthy's Late Rally Dooms Jesuit In 6A Title Game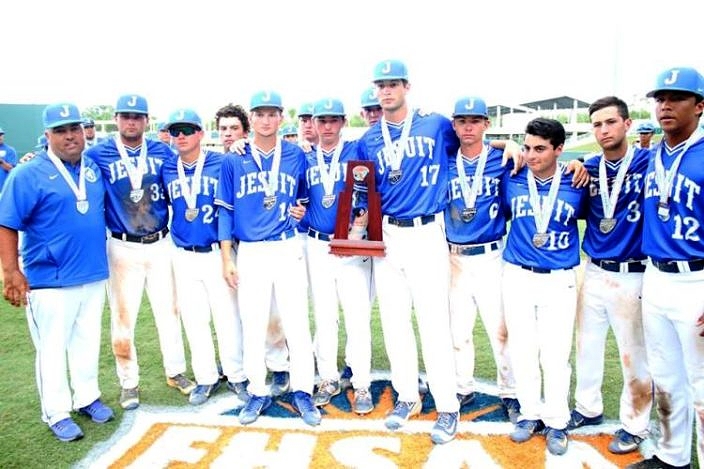 Photo Gallery
Coming into a season, there are always situations that arise that can derail a baseball program. Carrying a senior-laden team with a large roster, losing an ace pitcher that led the squad to a state title a year before, having rumors flying around the program for a majority of the year, or losing one of the top players in the country to injury. If one of those things happen to a team, it could signal a short playoff run.
For Archbishop McCarthy, a team fueled by challenges, that stuff was all child's play when it came to their quest for a third straight state title. The Mavericks, facing the adversity of all the aforementioned challenges, received big at-bats from a group of seniors that came up through the school en route to a thrilling 5-1 6A title game win over cross-state rival Tampa Jesuit.
"The adversity we faced with losing (Joe) Perez and (Yordani) Carmona looked insurmountable," said Mavs Manager Rich Bielski. "I doubt many teams could overcome losing such talented ballplayers both in the lineup and on the mound. Everyone knew the challenge would be even greater to repeat again, but we kept our faith in each other and everyone rose to the occasion."
One of those players who rose to the occasion is first baseman Alex Toral, a four-year starter for the Mavs. Toral, as has become his customary move in big spots, came through with a sixth inning game-tying single, scoring designated runner Michael Milmoe. Andrew Fernandez, another homegrown Maverick senior, had started the rally with a one-out single.
With Perez and Carmona unavailable, McCarthy turned the ball over to Johnny Leone. The senior saved his best performance in two seasons for his biggest assignment. Facing a tough Jesuit lineup, Leone mixed fastballs and curveballs, keeping Tiger hitter off balance. Leone also worked out of several big jams in his six innings of work.
The biggest of those jams came in the fourth when Jesuit threatened to blow a tight game open. Thomas Bencivenga led off with a single. After a flyout, Alex Mocny doubled. Mitchell Thrower then singled in Bencivenga.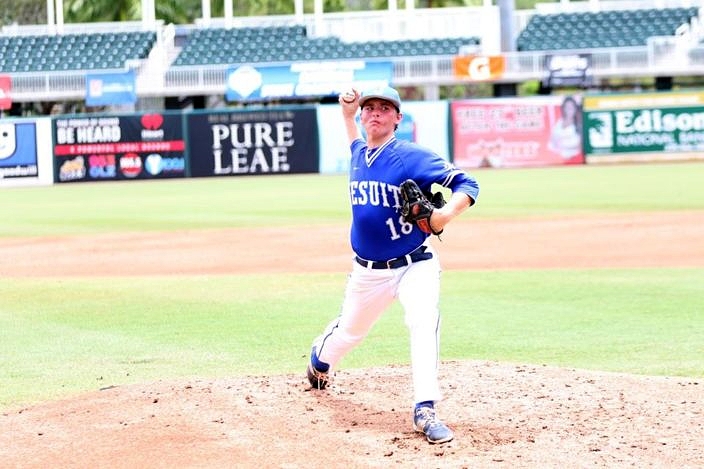 With one out, Jesuit attempted a squeeze, but the ball was not bunted, allowing Fernandez to pick off Mocny, who was coming home on the failed squeeze. When Mocny worked into a rundown, it appeared that both he, and Thrower were tagged out at third base.
After the teams had left the field, assuming the inning was over, the umpires convened and ruled interference, awarding Thrower third base. Leone then went back to the mound and worked out of the jam with a strikeout.
Jeff Hakanson, meanwhile, was cruising for the Tigers. He allowed only four hits on the day, while striking out seven. He kept a potent Mavericks offense off-balance all afternoon.
"Obviously we pushed all of our chips into the center of the table with Jeffrey Hakanson," said Jesuit Manager Miguel Menendez. "And you can see why with the outing that he had. He's been outstanding all year and pitched in a lot of big games and big situations for us. It was a pretty good first-ever high school start for him, pitching in a state championship game against that team and that lineup."
That team, and that McCarthy lineup that Melendez spoke about, consisted of six position players that have been four-year Mavericks, and one more that has been with the team for three years. It is a compilation of players that came up through the Mavericks system. Part of that system involves knowing how to do the little things to turn a game on the drop of a dime.
In the seventh, that experienced lineup finally broke through. With Hakanson out, AJ Hendricks and Michael Machin worked walks leading off the inning. Joey Thompson followed with sacrifice bunt. Alejandro Macario then hit into a fielder's choice, but when Hendricks held at third on the play, the Mavs had the bases loaded and one out.
Luis Tuero walked, Fernandez was hit by a pitch, and Toral walked. Adan Fernandez then hit a sacrifice fly, and suddenly a tight game turned into a 5-1 McCarthy lead.
"There is a reason why they have won now seven of the last eight titles, and they showed it with those last five outs," Menendez said. "We were five outs away from everything we wanted, and they did what great teams do. We had good guys who are good pitchers out there in that last inning, but they just didn't execute today. Unfortunately, that is baseball and those things happen sometimes."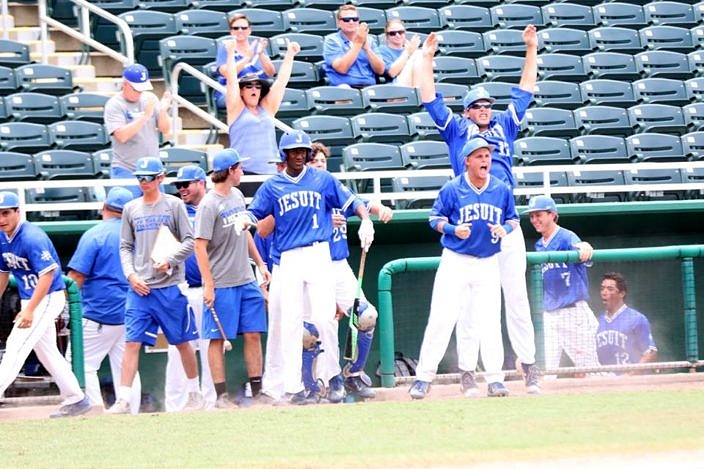 What does not happen is a team going on a run like the Mavericks have enjoyed. With the state title Saturday, McCarthy won their third straight championship, and seventh in the past eight years. It is a feat that no Broward program has ever accomplished, and one that will be hard-pressed to ever be duplicated.
As nothing is ever promised in the future, and with rumors swirling around the McCarthy program, Bielski chose to reflect on the magic that has been created by the current coaching staff and players, both past and present.
"I don't think any coach has a goal or even dreams of winning seven state championships in eight years. That would be silly," said an emotional Beilski. "It doesn't seem real to me. The time has passed so quickly. It has been a wonderful journey, an amazing ride that never gets old. These are the good ole days, right here, right now."
Mavericks Director of Baseball Operations Alex Fernandez, who was there at the start, even a year before Bielski, also has seen the program grow from what he described as a grassy field, to a perennial national power.
"When I came in, they said they wanted to build something special," said Fernandez. "So we threw our hearts and our efforts into making that happen. We have raised boys to become men, and we have built something that nobody can ever take away from us. It is special, and it is all because of the love we have for these players and this program. We are going to keep doing our thing until someone tells us we can't anymore."
Whether anyone does that or not, the current version of the Mavericks can take great pride in the idea that they have continued the legacy of the great Maverick players that came before them, and that is more than enough for them to get excited about.