Jesuit Shuts Out Dunedin To Reach 6A State Championship
Photo Gallery
Pitching and defense wins playoff games, but you also have to score runs. For the Jesuit Tigers, that has not been a problem this season. The Tigers have focused on offensive improvement all year, and Thursday afternoon all that hard work culminated in a big, 7-0 victory over Dunedin in a 6A state semifinal at Hammond Stadium in Fort Myers.
Jesuit pounded out 12 hits and broke open a scoreless game late to pull away to victory. The Tigers (25-6) will take on defending 6A champion Archbishop McCarthy in Saturday afternoon's 6A championship, also at Hammond Stadium. McCarthy advanced with a 5-3 victory over Mosley in Thursday's other 6A semifinal.
"It's something we talk about, and one of our focuses as a coaching staff has been quality at-bats," Jesuit manager Miguel Melendez said. "We try to grind out at-bats, and to hit balls hard, whether it is to move a guy over or to have an eight-pitch at-bat. These guys go up there with a plan and an approach and, the past few games especially, our guys have really just been grinding things out. If we can limit our strikeouts, put the ball in play and make the other team make plays then we feel that usually good things happen."
Good things definitely happened for the Tigers. The club had plenty of offensive success, the defense played error-free baseball and the pitching staff also did its part, with ace Jack Anderson delivering a complete-game shutout. The end result means Jesuit gets to compete for a chance to win its fifth state title in program history.
"Since I have been here in my three short years, we feel like this is the most well-balanced team we have had, and hopefully we can keep it going for one last game," Melendez said. "I told my guys, like the great Rick Flair quote goes, 'To be the man you have to beat the man'. It's Archbishop McCarthy and obviously it is going to be a huge task. They are a really good team, they played tremendous competition all year long and they are in the toughest 6A region in our state. It's not going to be easy, but we relish the opportunity. We're going to come out here ready to play and let the chips fall where they may."
Both sides had numerous scoring chances in the first few innings, but were unable to come up with the big hit that got it going. The Falcons (22-9) came up with some stellar plays on defense to keep the Tigers off the scoreboard, turning an unorthodox 7-2-4 double play to erase a runner attempting to score before doubling off the other base runner to end the top of the second. Dunedin turned a 5-3 double play on a liner to third base in the third, just missing out on turning a triple play on it.
"We've had pitching and we've preached to our pitching to trust our defense, and our defense kept us in that game in some tight situations," Dunedin manager Ron Sexton said. "Even when they doubled us up on hits on the scoreboard, it was still 0-0 after four. We just had a couple of defensive bug-a-boos, and with the law of averages and the game of baseball we were kind of due to have something like that. You hope you can keep it at bay and play through it, but it just unraveled at a point."
Jesuit finally got the scoring started with a pair of runs in the fifth. Charles Clark singled, stole second and scored on an RBI double through the left side from Joel Brewer. McGuire Weaver then sent a liner deep into the outfield to reach on a two-base error that made it a 2-0 ball game.
The Tigers added on three more runs to widen the margin in the fifth. Thomas Bencivenga was hit by a pitch, Duncan Hunter singled to center and Alex Mocny dropped down a bunt that went for an error that allowed Bencivenga to come home. Mitchell Thrower then singled to center to keep it going, and a throwing error brought in two more runs.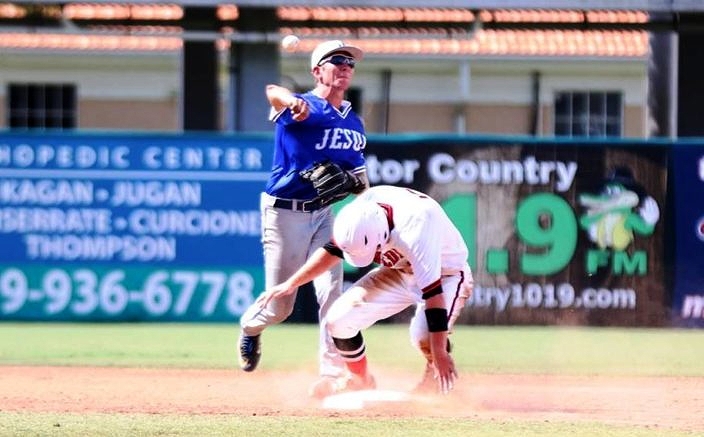 Bencivenga put the finishing touches on the victory with the first and only home run hit in the 2017 state tournament thus far. Jake Jones singled and gave way to pinch-runner Malik Young, and Bencivenga battled through a nine-pitch at-bat before connecting cleanly on a shot that traveled deep to land on the grassy hill beyond the left field fence for a two-run home run that completed the scoring.
"I hit that awesome," Bencivenga said. "It was a battle, a real tough at-bat. The kid just made one mistake and I was able to convert on that. All week we have said that we need to play the way we have all year. When we hit the ball our way, there is nobody that can stop us. That is what we have been able to do on this run."
Jack Anderson finished things off with a perfect 1-2-3 bottom of the seventh to close out the complete-game victory. Anderson scattered five hits and had five strikeouts, without issuing any walks.
The Falcons have a young roster overall, with many players returning to the team next year. Yet even as the team continues to evolve and improve, Coach Sexton knows that the opportunities do not come so easy to reach this Promised Land at the state tournament.
"People in the community are excited about the future, but it is so hard to get here," Sexton said. "We need to conduct business while we are here; there are no guarantees. It's great to be young, it's great to be talented, but I am just really hammering home the point that you have to get the job done when you're here, because now everybody is gunning for us. We went from being the hunter to being the hunted, and everybody is looking to make sure Dunedin does not repeat their progress to Fort Myers."