Undefeated Calvary Christian Captures First State Title
Photo Gallery
"Don't Cry Because It's Over, Smile Because It Happened." – Dr. Suess
The 2017 Calvary Christian Warriors will forever be remembered in the record books. Those outside the program will laud them for their accomplishments, a perfect 30-0 season that culminated in an 11-1 victory over Pensacola Catholic in Saturday's 4A state championship at Hammond Stadium in Fort Myers. But every member of the group really knows that the success did not create the magic, the magic created the success.
The lasting impression the players left on Warriors manager Greg Olsen is in how close they are, and how they truly love one another. Both the varsity and junior varsity players are all one tight family, and it is what has made this team so good together.
"Our team is so special, a group of guys that care about each other so much," Olsen said. "It just made every day so much fun. They approach everything with passion and they just leave it on the field everyday. They truly earned it and I'm blessed to be the coach and just grateful for everything they have done, for their trust in each other and their trust in us."
It's easy to have fun when you are winning, but the Warriors were winning because they were having fun. This special collection of players combines baseball passion and talent with a multitude of random, colorful personalities. The coaches cultivated the perfect atmosphere and something magical and special became.
A visit to the Calvary dugout during a game is all the proof needed. Besides the banter and camaraderie, there is a specific section designated to Dr. Suess. It began with sophomore Nolan Hudi, as he watched from the dugout during a contest early in the year when a pitcher tried to pick off his teammate.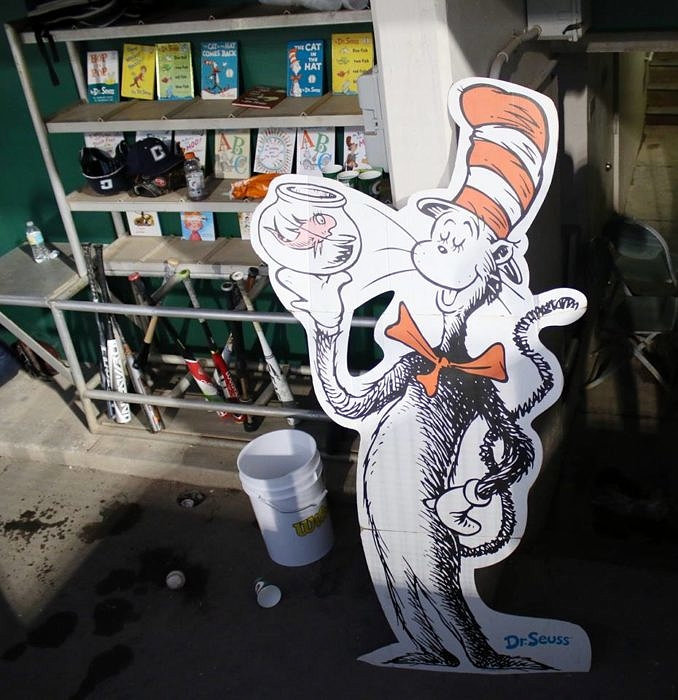 "Easy read; Dr. Suess," Hudi yelled.
He used the quirk again a few games later when the same thing happened.
"Cat in the Hat," someone responded.
The lingo just continued to evolve and the inside-joke between teammates just kept getting better and better. Braden Halladay starting bringing Dr. Suess books to the dugout for games, reaching a total of 20 by season's end. Then they got a 'Cat in the Hat' replica hat and a miniature figurine, and Hudi finished it off with a large 'Cat in the Hat' cardboard cutout. The Dr. Suess section makes it easy to remind everyone to have fun in what they are doing each game.
"The coaches let us be so comfortable and just so happy to be out here, because in the end it is all about having fun," Hudi said. "Is this incredible? Yeah. We've had an incredible season all year long and it just kept getting better and better, and the fact that it was so incredible and so fun is because we got to have fun by our little antics in the dugout and by enjoying and loving one another."
Now the Warriors have their first state championship trophy in program history to serve as a symbol of that love. Calvary became the first Florida baseball team to go undefeated and win a state title since 2013, when Saturday's opponent, Pensacola Catholic, also went 30-0 and won the 4A crown.
The Crusaders (24-7) were ready to play the spoiler role and grab the title, but fell behind early on and struggled to get things going against a Warriors defense that made numerous big plays to thwart scoring opportunities. Calvary allowed base runners in every inning, but made a habit of erasing them and thwarting Pensacola Catholic's efforts to mount any sort of a comeback.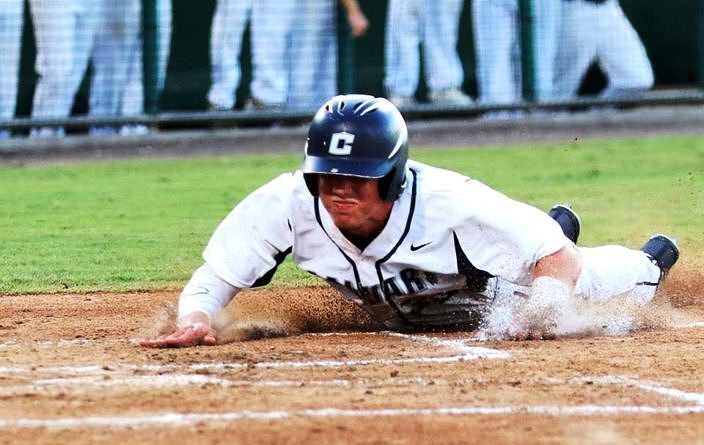 Pensacola Catholic had its best chance for the upset when it loaded the bases with one out in the top of the first inning. Matthew Estrada was hit by a pitch, Donovan Benoit reached on a single back off the pitcher's glove and Devin Whitehead walked to fill the bags. But Calvary starter Jonathan Fisher responded by serving up a lethal mix of fastballs and changeups to record two swinging strikeouts.
"They beat us tonight and they really played well," Crusaders manager Sonny Reedy said. "They jumped on us early and we just could not get anything going. They turned three double plays on us and their center fielder made a diving catch, and we had a guy picked off at first base. It is just unfortunate how things played out tonight, but my kids never gave up. They kept thinking they were in the game and trying to get guys on, but we just couldn't get a break. But there is a reason they are 30-0 because that is a great team over there."
The Warriors then wasted no time in taking control offensively with a 6-0 lead in the bottom of the first inning. The first four batters connected for hits to get it going and they sent 11 batters to the plate in the frame. Eric Kennedy lined a lead-off single to right and then stole second, and Justin Bench delivered an RBI single through the right side to give Calvary a quick 1-0 lead.
Calvary was just getting started. Graham Hoffman dropped a flare into center field for runners on the corners, then broke for second and Hoffman came in on a throwing error. Next came Matheu Nelson, who laced a shot deep to center field for an RBI double. After Marco Benedettini moved Nelson to third with a sacrifice bunt, a passed ball brought in the fourth run of the inning.
An infield error allowed Cavan Ingram to reach safely to keep things moving in Calvary's favor. Nolan Hudi singled through the right side and Christian Cairo dropped a great bunt down the third base line to load the bags up. Ritchie Mize then delivered another dagger by ripping a single to left field that drove in a pair.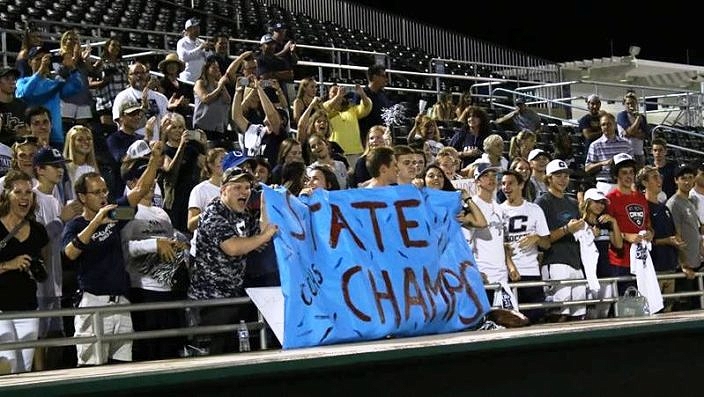 The Warriors batted around the order to tack on three more runs in the third. Hudi ripped a lead-off double past third base, Cairo lifted an RBI single over the shortstop and into shallow left field, and Mize then lined a hit to the same location. Kennedy came next with an RBI hit to center and Bench dropped down a great bunt to third that loaded the bases. Hoffman then drove in another run the tough way by getting hit by a pitch that pushed it to a 9-0 advantage.
The Crusaders answered back to avoid the shutout in the fourth, before Calvary added the final runs it needed to close out the victory. Nelson had a sac-fly RBI that plated Bench in the fifth, and Kennedy finished it off with an RBI single that drove in Ryan Michaels for the final run to end it in the bottom of the sixth via the mercy rule.
"It was the type of situation that you dream of when you're a kid," Kennedy admitted. "So when it actually happened when I was up to the plate I was pretty calm. But once I saw it squirting away from the pitcher I started to lose it because I was super happy. There are very few words that can describe it. Our coaches just prepare us so well, and we're strong in every area. You give all the glory to God and thank our coaches for this experience."
After connecting for the final hit, Kennedy's teammates and coaches raced from the dugout and dogpiled on him for the first time as state champions.
"I got absolutely demolished," Kennedy said. "I got crushed, but it was awesome."