Bishop McLaughlin Falls 7-3 To Canterbury In 3A Semifinal
Photo Gallery
The Canterbury Cougars know a thing or two about dealing with adversity. The defending Class 3A state champions overcame some tough obstacles in winning the state title last season. So when the Cougars found themselves in a tough situation early on in their 3A state semifinal against Bishop McLaughlin on Friday afternoon, instead of panicking, heroes stepped up to take the lead.
Trailing by a run and losing their ace starting pitcher to a neck strain after one inning, Canterbury rallied behind reliever Tyler Shuck and stormed back for a 7-4 victory. Canterbury (26-5) will take on University Christian in Saturday afternoon's 3A state championship at Hammond Stadium in Fort Myers. The Christians advanced following a 6-0 win over Archbishop Carroll in Friday's other semifinal.
Although there were no plans for Tyler Shuck to even pitch during the state tournament, when ace Sam Keating left the game with injury he approached his coach and asked for the ball.
"It was an emotional game because we lost Sam early," Canterbury manager Frank Turco said. "He strained his neck two days ago and he tried to get massages and work it out, but it just didn't work out that way. But Tyler Shuck, the guy that he is and the big-gamer that he is, he said, 'Coach, I want the ball' and he single-handedly kept us in the ball game like that. It was a Warrior's effort to give us a chance to play for another state title."
The fact that Tyler Shuck all but demanded the chance to take over in relief came as little surprise to his teammates and coaches. Those closest to him know the type of player he is and what he is willing to do for his team.
"I don't like losing at all," Tyler Shuck admitted. "So any chance I can help my team out and get some outs, make plays, I will do anything to help the team. I kind of just had to wing it a little bit, but I just tried to get that winning mindset and try to throw strikes and get ground balls to let my fielders make the plays."
The Hurricanes grabbed the lead in the first inning to put immediate pressure on. Bryce Carroll was hit by a pitch, advanced around the bases on some pitches in the dirt and then scored when Dillon Morton sent an RBI single through the right side of the infield defense. Canterbury attempted to answer right back after Cooper Swanson led off the bottom of the first with an infield single, but McLaughlin turned a smooth 4-6-3 double play to quell the threat.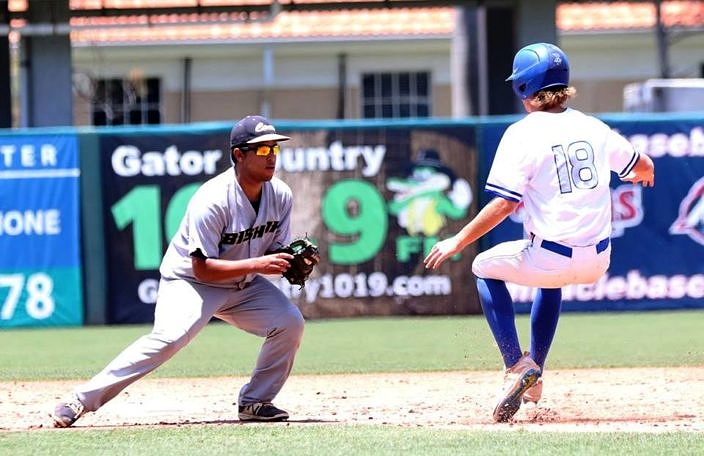 The Hurricanes (22-9) have been challenged plenty of times throughout the year with the tough schedule they played. So facing off against the defending 3A champion was like many other tough competitors they have faced this season, and they came into the game confident they could handle anything that was thrown at them.
"With nine seniors, I wanted to challenge them," Swymer said. "We were here in 2015 but we were a lot different club then, with four Division I arms. We didn't have four Division I arms, and Dominic Diaz was a horse for us this year. Manny Sado only threw one inning for us last year and he had a big year for us, and then the freshman, Hunter Gillespie, came on late and has been huge for us. We've just been that team that you can't get rid of. There was a point in the season where we were 9-7, and coming into this game we were 22-8, so that is a pretty good run at the end of the season. But we played a brutal schedule."
After Tyler Shuck gave them a burst of confidence, the Cougars collected themselves and got going in the bottom of the second. Catcher Giovanny Lorenzo sent a shot deep to left field for a stand-up double and then gave way to courtesy-runner Levi Shuck, who scored on an infield error to tie the game. Donovan Duvall kept it going with a base hit and Giovanni DiGiacomo drove in both Duvall and Alec Babb for a 3-1 advantage. They then tacked on two more runs in the fourth.
Bishop McLaughlin got the bats going to pull within a run in the top of the fifth. Bryce Carroll blasted a double to left, Morton walked and Paul Coumoulos reached on an error that allowed Carroll to cross the plate. Following a walk to Zack Bergland, Shafer Magee delivered a liner to left field that drove in two base runners to make it a 5-4 ball game.
But the thrill of the comeback was quieted as Canterbury scored two unearned runs in the bottom of the fifth to extend the lead back to three runs.
"I think our defense let us down right there because we had a couple of errors right after that," Bishop McLaughlin manager Jeff Swymer said. "We pull it in within one, that is the time where you have to put a zero up. I think we let ourselves down a little bit, but that's baseball and that's why you play it."