Plant's Fagler Tosses Complete-Game Shutout Over Alonso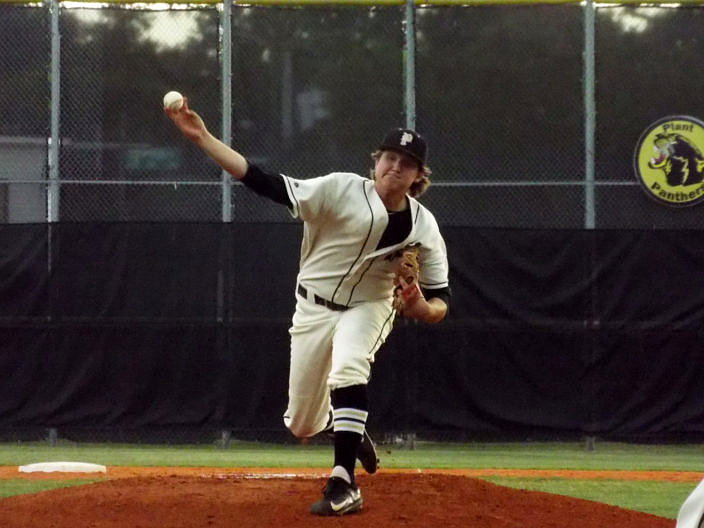 Photo Gallery
Fans at Wade Boggs Field witnessed one of the quickest high school baseball games they will probably ever see, clocking in at just over an hour.
Shortstop John Shields' lead-off blast over the right-field wall in the first inning was all the offense the Plant Panthers (#4 TB Power Rankings) needed Tuesday night at home against the Alonso Ravens (#3 TB Power Rankings). The Panthers sent Brock Fagler to the mound and he hurled an incredibly-efficient, complete-game gem as the Panthers road his arm to a 1-0 victory over the Ravens.
"We can't ask for a better start from Brock," said Panthers' manager Dennis Braun. "He was very efficient, he had all his pitches working tonight. He was in the zone all night, and we made some plays when we needed to behind him. John got us going out of the gate, although I thought we needed at least one more, but what can you say, 55 pitches, a hour and ten minutes, you really can't ask for much better than that."
Fagler needed a mere 55 pitches to pick up the win, his fourth of the season. He tossed his third complete game for the Panthers (15-3), who picked up their seventh victory in the last eight games. The Ravens (14-5) out-hit the Panthers on the night, but the fielding and defense of the Panthers made sure none of those base runners ended up crossing the plate as the Ravens stranded five base runners.
Fagler got ahead in the count against 19 of the 23 batters he faced on the evening. He allowed just four hits and walked none, racking up six strikeouts on the night to bring his season total to 24 and lowering his ERA to under half a run per game.
"I felt great from pitch one," said Fagler. "I started to feel my pitches in warm-ups and it carried through into the game. This was a huge win. We got started off right with John Shields' home run and then we let the defense make some plays for us."
After Shields' lead-off home run in the first, it had a feel early on as though the Panthers' bats were going to be hot all night. Yet despite making solid contact on a number of pitches they managed just one more hit off the bat of Zach Koch. Connor Scott was the only other Panther to reach base, and that was by virtue of a walk.
"To be honest, we though we were going to be hitting right out of the gate tonight," said Shields. "So to be held to just two hits was a bit of a surprise against the lefty. We did face a lefty last Thursday in a game against Steinbrenner. We don't really see many throughout the season so facing one last week helped out a bit. I was definitely feeling pretty good the rest of the at-bats so I am surprised I didn't get at least another hit. But overall, I definitely feel that our at-bats against lefties as a team are getting much better on top of seeing the curveball better as a team."
Shields' home run was his second of the season, matching his total from last year and putting him in a three-way tie with Connor Scott and Chase Sanguinetti for the team lead.
The home run was the only blemish on Ravens' starter Marc DeGusipe's night, as he turned in a near-perfect performance over five-and-one-third innings of work. DeGusipe struck out six and walked just one before handing it over to Sam Drumheller, who struck out one in the final two-thirds inning.
Jordan Butler, Nick Gonzalez, Jose Ciccarello and Drumheller tallied a hit apiece for the Ravens, highlighted by Butler's double with two outs in the sixth inning. However, Butler failed to make it home, just as Gonzalez was stranded at third in the fifth inning.
Two double plays turned by the Panthers stymied any rally for the Ravens earlier in the game. First, it was a 4-6-3 double play that got Ciccarello advancing to second and then another 4-6-3 double play to end the fourth inning.
The loss snaps a five-game winning-streak for the Ravens, during which they outscored their opponents 31-6. The Panthers avenge a 6-0 loss to the Ravens last year and earned their second straight win.