Out-Of-Door Academy Cruises Past St. Petersburg Catholic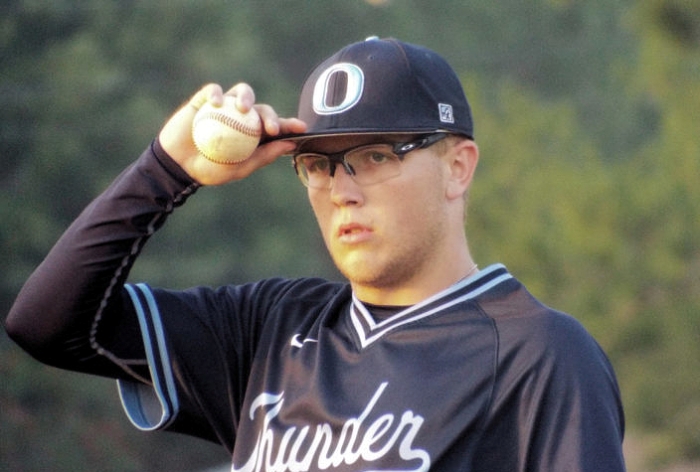 Photo Gallery
Despite coming in riding an eight-game winning streak, the red-hot Out-Of-Door Academy Thunder found themselves in a tight game early on against their 3A-5 rivals, the St. Petersburg Catholic Barons. With crucial district seedings on the line, and looming battles with Northside Christian and Indian Rocks Christian later in the week, it didn't take long for the Thunder to break the game wide-open.
With the bases-loaded in the top of the third, Alex DiMare slugged a bases-clearing double with two outs to help the Thunder roll to an 8-3 win over the Barons that stretched their winning streak to nine games.
The Thunder (15-2-1, 8-2) scored all eight of their runs in the first and third inning. DiMare had the three-RBI double, part of a five-run third inning, and ended the night going 2-for-4. It was a total-team effort from the offensive side. Six different players tallied RBIs, led by DiMare, and seven different players scored runs, led by Cameron Smalley with two. Smalley also added an RBI. Najee Rhodes, Bradyn Moore and Austin Brinling all scored a run and tallied an RBI each.
"We need to stay hot going into the district playoffs," said DiMare. "Especially because we have such a tough district and its nice to go into the tournament hot. In the third inning, I was just trying to do my job against two strikes. I needed to just fight off as many pitches as I could, and find a pitch that I can hit and I got one and went the other way."
After falling behind by three in the top of the first, the Barons (6-9, 1-7) were able to pull to within one. Jose Hernandez drove in two of the three runs on the night for the Barons, with Matt Martinez adding the other. Chris Reilly, Aidan Smith and Lawrence Hamilton all scored runs for the Barons, but as a team they stranded eight runners.
"We need to go back to playing fundamental baseball," said Barons' manager Dan Rhoades. "We have to make the plays in the field and our at-bats have got to be better. We have had a tough time with moving guys in once we get them in scoring position and those are the things we have to correct. That will be the main thing we will be focusing on in the next couple of days. When we get a man on third, with only one out, we need to find a way to score, and that's not what we are doing right now."
Duncan Capper picked up the victory for the Thunder, scattering five hits over three innings, allowing two runs and striking out three in the strong performance. Maximilian Munroe, Hunter Bogumil and Thomas Wilander pitched the final four frames. The trio struck out four and allowed just three hits and one run.
Although the Barons' defense struggled at times in committing three errors, they came through in the most critical moments, including a huge double-play in the fifth with no outs.
"It feels great knowing these guys are behind me," said Capper. "We play on a grass infield at home and it makes things tough sometimes when we come to these dirt infields, but I have full confidence in my guys back there that they are going to make the plays. They're confident, they're good with their footwork, and they work very hard. It's great as a pitcher to know that I can throw any pitch that I want and know my defense has got me no matter what."
The road ahead is tough for the Thunder ultimately they know in order to stretch their winning streak into double digits they must continue to play fundamentally sound baseball and limit the mistakes.
"Right now its about effort and focus," said Thunder Manager Tim Orlosky. "If they focus on what they are doing and put in 100% every game, what else can you ask for? If they do that they will be successful. We are reviewing things at this point in the season. Up to this point in the season we have done really well on defense; this was not our best defensive game. I'm glad to see them make the plays when it matters, but coughing up free bases is not what we want to see."