IMG Academy Black Ends Year With Win Over Bishop Verot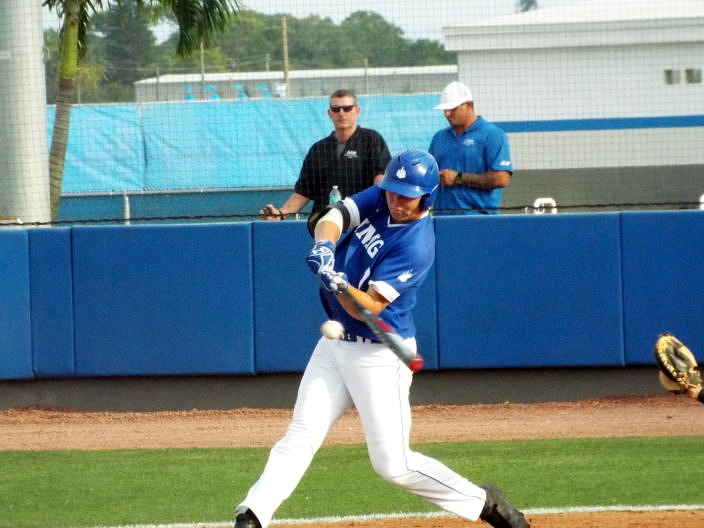 Photo Gallery
In what was the final game for several seniors on the IMG Academy Black Ascenders team, it was only fitting that a trio of them starred in the final action of their high school careers.
Tyler Esplin's RBI-double in the first inning kick-started a three-run frame for the Ascenders and they never looked back. Brock Diggle's solo shot in the bottom of the fifth added some insurance and senior Tyler Ahearn took to the mound for his final start and threw four scoreless innings to lead the Ascenders to a 5-1 home victory Friday night over the Bishop Verot Vikings.
"It was a great team win," said Ascenders' manager Chris Sabo. "We played great. We had the second-ranked team just a couple years ago and had the same amount of wins this year. These guys have good chemistry and they work hard. They bounced back from a tough loss to Canterbury but we beat Jesuit, who is a very good team, and Bishop Verot, which always has a very solid program. I just wish we could play in the playoffs, honestly, but unfortunately it comes to an end. But now we have to get some guys ready for summer ball and possibly the draft."
Diggle and Esplin are no strangers to the offensive spotlight. The two sluggers came in leading the Ascenders (21-5) with a combined six home runs and 40 RBIs on the season and had their fingerprints all over the three-run first inning. Esplin's RBI-double, scoring Nick Arrivo, gave the Ascenders the 1-0 lead. Esplin came around to score the second run of the inning and Diggle capped the scoring by driving in Austin Bates for the third run of the inning.
"I think it was really important to get out to a fast start," said Esplin. "When we come out hot early on we tend to keep the momentum throughout and usually win the game."
The Vikings (17-8) were shut out for the first four innings thanks to Ascenders' starter Tyler Ahearn, who struck out four batters and walked just one in a very efficient four innings to pick up his sixth win of the year. Blaze Alexander broke up Ahearn's no-hit bid in the top of the fourth with a blistering double to center field. Ahearn rebounded with back-to-back strikeouts to end the inning and strand Alexander at second.
"I knew it was my last start in my high school career so I just went out there and gave it my all," said Ahearn. "I really just wanted to get the team win and that's what we got. It was a good way to go out. I'd say its a little bitter-sweet though. We wanted to go out on a good note but its going to be a bit sad, having to say goodbye to our teammates and high school. But it is going to be fun to see us all go off to college and compete at a higher level."
Ahearn, a Florida State University commit, was lifted to start the fifth inning and the Vikings finally broke-through for their first run of the game. After Michael Lemmerman led the inning off with a single, he came around to score on a sac-fy from the younger Thomas Lemmerman to close to within three runs. However, the Vikings did not score again in the inning, and in the bottom half of the fifth, Diggle collected his second RBI of the game with a monster home run over the right-field wall to increase the lead to four.
"I'm in the four-position so it's my job to rack up as many RBIs as I can," said Diggle. "It doesn't matter if I get out, its all about doing what's best for the team. I look at Tyler Esplin's at-bats all the time because he is another big-lefty hitter so I try to key-in on what the pitcher is throwing to him in the two-hole."
Cade Middleton took the tough loss on the mound for the Vikings, who came into the game winners of six straight, during which they surrendered just four runs as a team. Middleton struck out four and allowed three runs, all in the first. It was a tough game all around for the Vikings but they will live to play another day as they are poised to start the district tournament in a week's time. That was echoed to the players by first-year manager Austin Flores after the loss.
"No matter if we win or lose this game, we are undefeated at this point," said Flores. "Next week is when it starts and really counts. Obviously, we are upset about dropping a game like that because we are all competitors. But we know we have to re-adjust and focus on next week and get ready for the district tournament and go from there."
Despite the great season on the field, there is not a district tournament for the Ascenders to look forward to, as an Independent program that does not compete in district play. For a lot of these players, what's next is a bit of a mystery. But they are happy to have gone out on a good note with a win with their teammates.
"This is something we have been anticipating all year," said Diggle. "We have been training for this since the fall but it feels like it went by so quickly. On top of all that, we had some guys come from other high schools that may have not been getting the playing time they deserved with their old teams, and then they meet up with all these great guys on this team and have the time of their lives. It is definitely sad for a lot of us to be moving on.