Huge Third Inning Propels Jefferson Past Lennard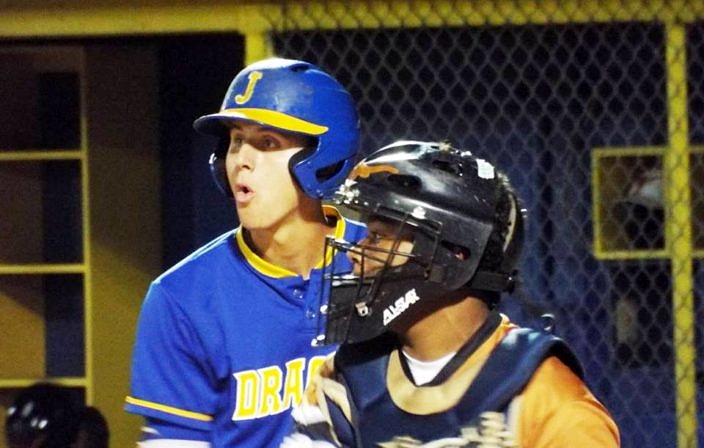 Photo Gallery
With the game tied in the bottom of the third and the bases loaded with no outs, junior Robby Martin broke things wide-open for the Jefferson Dragons, sending a blistering line-drive to center field to score Andrew Mathis and Isaiah Gonzalez to give the Dragons a lead they did not relinquish. Jefferson tacked on four more runs and Michael Dominguez stymied the Lennard Longhorns' offense to the tune of six strikeouts over six innings as the Dragons cruised to a 7-1 victory at home on Thursday night.
The Dragons (12-6) have a storied list of former players that made their marks on the biggest of stages, including the likes of Tony LaRussa, Tino Martinez, and Fred McGriff. Andrew Mathis may very well be the next one on that list.
Mathis reached base all four times he came to the plate against the Longhorns (9-9) Thursday, going 1-for-1 with three walks and two runs scored, raising his otherworldly on-base percentage to .671 on the season. However, the highlight of the night came after the second walk issued to Mathis broke Fred McGriffs three-decade old record of walks in-a-season with his 28th of the year.
"It was a pretty big honor for me," said Mathis. "The team was rooting me on all game to get the walk and I tried my best to get it. My goal is to always just get on base and score some runs."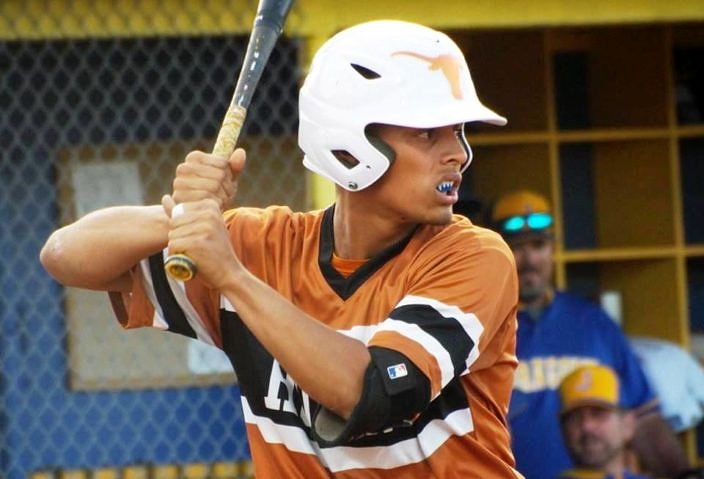 Mathis walked for the 29th time later in the game to just get on base again.
"I know he was up there with the walks," said Dragons manager Juan Fontella. "One day I just decided to check the record book when he was at 27, and of course Fred McGriff was there, so I kind of hinted at it to him so he wouldn't be thinking about it too much. He has just done a great job all season from the lead-off hole and when you can consistently get your lead-off guy on it helps."
The two runs Mathis scored raised his season total to a team-leading 25 runs. Right behind him is Robby Martin with 24 runs scored, but tonight it was about the runs he drove in. Martin led the way on offense, going 3-for-4 with four RBIs, including the difference-making run in the third inning with the game tied. Martin raised his season average to .491 and has his sights on repeating as the teams batting champion.
Michael Dominguez picked up his third victory of the season, allowing just one run on three hits over six innings of work. Dominguez struck out six batters to increase his season total to 39. He did so on a variety of pitches.
"My curve was probably my best pitch tonight," said Dominguez. "I got a couple strikeouts with the curve. The fastball was working well too and I got a couple strikeouts with the changeup, so I'd say all my pitches were working, and I felt good out there."
Martin pitched the final inning, allowing just one hit and racking up two strikeouts in a quick final inning.
"We feel pretty good going into districts," said Dominguez. "We have been hitting the ball well as a team and the pitchers are really doing a good job. I think we need to work on our defense and limit the errors a bit but we will be good. Hopefully we can dominate districts, make it to regionals, and hopefully move on to states."
The combination of Dominguez and Martin were the cause of most of the Longhorns problems on offense as they were held to just four hits as a team. Victor Schilling scored their only run of the game on a Keith Harden double in the third to briefly tie things up.
"It didn't turn our way tonight, but I'm pretty confident that these guys will respond going into the districts," said Longhorns' manager Kennedy Duran. "We have a very solid line-up and moving forward we are going to be really tough in the districts. We are sitting at .500 right now and tonight was a good opportunity to get some guys some playing time. 7-1 does not indicate what we are trying to do here."
Lennard worked a number of pitchers into action, using five different arms in all. Victor Montanez took the loss, surrendering two earned runs on three hits and two walks while striking out one.
With four games remaining and district games in the rear-view mirror for the Dragons, two huge tests remain in the final two weeks. Back-to-back games against 15-win Plant Panthers (#4 TB Power Rankings) and Alonso Ravens (#3 TB Power Rankings) offers the ultimate measuring stick heading into the postseason.
"It's always about momentum this late in the year," added Fontella. "We have two weeks left with districts coming up and it's always good to play good teams to see where we are at. That's what you want to do heading into districts, get wins and play good baseball."