Calvary Christian Outlasts Jesuit To Remain Undefeated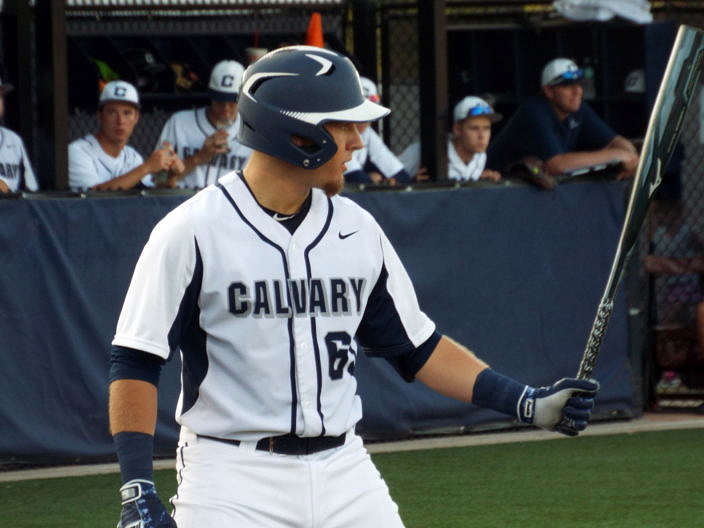 Coming off one of the their closest victories of the season on Thursday, the #1 Calvary Christian Warriors left little doubt early on whether or not their perfect season would continue on Friday.
Matheau Nelson's three-run blast in the bottom of the first was a wound to the #2 Jesuit Tigers that they never recovered from. The Warriors sent seven different players across home plate and rolled to an 8-1 home victory to remain perfect on the season, with just two games remaining in the regular season.
The aptly named Victory Field was witness to yet another win for the Warriors (22-0), who now own 13 victories at home. The wins haven't come easy, and the last week of the season has seen a gauntlet of teams come in and try to spoil their undefeated season. Their latest test may have been the toughest, as the Tigers (19-5) came-in sporting an impressive resume of their own, highlighted by a Saladino Tournament championship victory several weeks ago.
"They showed up ready to go tonight," said Warriors manager Greg Olsen. "Jesuit has talent one-through-nine and every guy they throw out on the mound is throwing the ball hard. I think our guys look forward to that level of competition. Jesuit is a heck of a team, they are going to do well and are going to make a deep run. They have all the pieces. It's not easy to beat a team like that who are that well coached."
The Warriors passed the test with flying colors, and the win puts the idea of perfection firmly in the cross-hairs of the teams achievements. But the humbleness of the team and the focus won't allow them to lose sight of the real goal.
"It hasn't been our focus all year and it won't be," Olsen said. "Its about our guys coming out and getting better. If our guys keep working hard and getting ready to play then things usually take care of themselves. It's not about winning every game; we need to keep getting better. If we keep that focus we will be fine."
The Warriors entered the second inning with a 4-0 lead after a Cavan Ingram RBI single followed Nelson's three-run home run. Ingram also scored a run, joining Nelson as the only Warrior to do both on the night. Marco Benedettini led in the runs-scored department with two, and he also added two stolen bases. Eric Kennedy, Justin Bench and Curt Leavens all added a run apiece and further emphasized the theme of the evening and that was total-team effort.
"The focus of this team has been the same all season," said Nelson. "We have to have a complete team effort, not individuals trying to make it about themselves, but about the team. That's why we scored eight runs tonight. I was able to drive in three tonight, but we know that is not going to be good enough against a team like Jesuit, they could have easily come back from that. I think we had two or three bunts that got down and we scored runs on those plays, and those played a huge factor in the win. We know we just need to put the pedal to the metal and come out and play these last two games hard and carry that into the districts."
Reliever-turned-starter Graham Hoffman picked up his first win of the year in his first start of the season for the Warriors. Hoffman went four strong innings, striking out three and walking just one. The lone blemish came in the third inning on an RBI double from MacGuire Weaver that scored Mitchell Thrower from third.
"I think how we finish is more important than going undefeated," said Hoffman. "If we lose a game coming up it won't be a big deal. I think that is the most important thing is we are playing our best in districts and regionals and as far as we go. We need to focus more on the bigger picture as opposed to having to go undefeated. Usually I'm a closer so I don't really start that often. That was the most innings I have thrown all season. We were aiming for about three innings and then Nolan was going to come in and finish it."
Nolan Hudi came in for the final three innings and was nearly perfect. He allowed no hits, struck out two and walked just one to secure the victory over the Tigers. The Warriors are now looking at Indian Rocks Christian and Inspiration Academy as their final two tests of the regular season.
For the Tigers, it was a tough night to run into a well-oiled machine such as the Warriors, as they suffered only their second losing streak of the season. The early four-run deficit was a tough hill to climb for the Tigers, who will look to right the ship with one final regular-season game.
"When you compete you want to win," said Tigers manager Miguel Menendez. "They're 22-0 for a reason. They kicked our butts all night long and they deserved to win that game. They did a great job[ we fell behind early and put ourselves in a hole. I thought we had a chance there in the third inning with men on second and third and we didn't capitalize. They do what good teams do and put you away. Our goal is to win a state championship and in order to do that we have to play and beat teams like Calvary, and tonight was a good learning experience."