Santa Fe Catholic Returns To The State Championship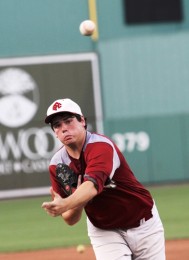 Photo Gallery
Matt Wurthman may not have come into Friday's Class 3A state semifinal at Fort Myers' jetBlue Park with the fanfare of his opposing pitcher, John Carroll ace Chase Solesky. Yet the crafty left-hander delivered a performance of a lifetime to lead Santa Fe Catholic to a 3-1 victory and a spot in Saturday's state championship.
The Hawks (21-9) will face the Canterbury Cougars (30-1) Saturday night for the 3A crown.
Wurthman went the distance in the pitcher's duel. Relying on a heavy dose of off-speed pitches, the southpaw lived in the strike zone and made great adjustments to earn the victory.
"He out-pitched us," Solesky said. "We knew we were going to see him but we didn't know what to expect. He struck me out twice but I saw one fastball in three at bats, and for a hitter that's hard, especially when he's hitting his spots. It's not that he throws hard or that his stuff's great, but he hits his spots. That's what wins ball games."
Wurthman focused on throwing changeups and back-door curveballs to the middle of the order. When he stopped getting those for strikes he switched to a cut-slider and got guys to swing and miss at that instead. He also found that his changeup was working great in the off-speed situations.
"It was real nerve-racking at the beginning, but I had my boys Langley and Walker to talk me through it," Wurthman said. "Walker played football in the state championship and had been there before, and he told me how to calm my nerves. Then I just went out there and pitched like I know how to pitch. I felt like I was coasting, and I thought it was the fourth inning when it was the sixth inning. I just lost of track of time and I felt great."
Wurthman scattered six hits and a walk and picked up three strikeouts. He found the strike zone on 54 of his 85 pitches and worked ahead in nearly every count.
"We like to throw strikes, whatever pitch it is," Hawks manager David Saliba said. "Matt is fortunate to have four pitches and usually if he is having a good night he is pretty close at all of them. We try not to give up any free passes, we play good defense and we see if the team can beat us. If they come out here and pound us with some hits we'll tip our hats to them, but we're going to try and make them earn everything they get."
Solesky also went the distance in his final high school game. He struck out six on 87 total pitches, scattering seven hits and three walks while allowing two earned runs.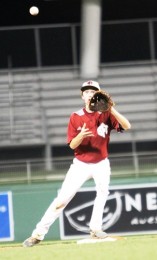 The Rams (15-13) opened the scoring with a run in the top of the third. Austin Nirenberg lined the first pitch he saw over the shortstop for a lead-off single. Michael Pederson dropped down a sacrifice bunt to move him into scoring position, Royce Neil got the ball down on the ground to the right side for a 4-3 groundout that pushed Nirenberg to third and then Mario Persutti laced a double deep into the left field corner for an RBI double.
Santa Fe Catholic answered right back in the bottom of the third to take the lead. Tyler Hancock lined a one-out single into center field, Zach Scott drove a shot to the base of the left field wall for a stand-up double and Langley Gault drew an intentional walk that loaded the bases. A wild pitch allowed Hancock to score and tie it back up, and Patrick Hicks culminated a solid seven-pitch at bat with a liner into left field that plated both Scott and Gault for the lead.
"I had great moral support from the bench, and they just helped me through the game," Hicks said. "I fell behind in the count and was down 1-2, and I was looking for that outside pitch that I knew was coming. I took it the other way and found the hole. We came in here and knew it was a big stadium with a lot of distractions, but I just blocked them out and took the outside pitch."
The Hawks are knocking on the door for their second state title in program history, after they also won it all in 1995. They hope to carry the momentum of Friday's clean game into the title bout, and look to Zach Scott to replicate the pitching success.
"That's what we've done when we've won is played good baseball," Saliba said. "We play good defense and when we get a runner in scoring position we get him in. Our pitching staff has been pretty good, and we hope Zach is good tomorrow. We'll find out."