Santa Fe Catholic Falls To Canterbury Cougars In 3A Final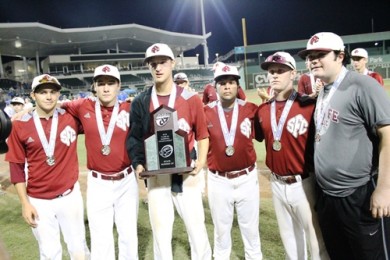 Photo Gallery
A special season came to an unfortunate conclusion Saturday night for the Santa Fe Catholic Hawks. Behind a complete-game shutout from right-hander Tyler Shuck, the Canterbury Cougars blanked Santa Fe Catholic 6-0 to win the Class 3A state championship at jetBlue Park in Fort Myers.
"It was a great season," Hawks manager David Saliba said. "We didn't quit but we gave them way too much early and you can't do that against an outstanding team."
Tyler Shuck was in control the entire way, as he needed only 91 pitches to go the full seven innings. He threw 61 strikes and recorded seven strikeouts to earn his sixth win of the year.
Canterbury jumped in front in the bottom of the first. Carter Smith reached on an error and Cooper Swanson dropped down a bunt that put both runners on after the throw to second sailed high. Sam Keating also put down a bunt, but Hawks starter Zach Scott fired the ball to third baseman David Tomkow to erase the lead runner. Starting pitcher Tyler Shuck then jumped on the first pitch he saw and lined it past third base for an RBI double that plated both runners.
"Getting a quick start really helps," Cougars manager Turco said. "It helps the pitcher out and it helps the confidence of the kids. We told them, 'Don't be shy. If it's there go to work'. If they are there to go to work than let them work and swing with confidence."
The Cougars added onto that lead with another pair of runs in the second. Gus Cunningham drilled a single past third base and moved to second on an infield groundout, and Donovan Duvall drove him in when he waited back on a pitch and lined the ball into right field for an RBI single. A groundout moved Duvall over and Cooper Swanson sent him home with an RBI single up the middle.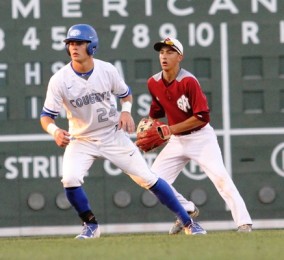 "That was the difference in the ball game right there was that we gave them four runs in the early innings and didn't have enough to get back," Saliba said. "If we kept it close then a base hit and we have a chance to do something."
Canterbury tacked on two more runs in the fourth. Duvall singled and came all the way around to score a throwing error off a bunt attempt from Smith, who reached third base on the play. Swanson followed with a sac-fly RBI to center field that plated Smith.
Tyler Shuck was perfect through the first five innings. With two outs in the sixth Patrick Haggins dropped down a bunt single to third and Nic Tamayo followed with the same to out the Hawks' first two runners on base. A passed ball moved them both into scoring position, but the Cougars erased the threat with an infield popout.
The Hawks made one final rally bid by loading the bases with two outs in the top of the seventh. Matt Wurthman lined a single into left field and Patrick Hicks and Alex Contreras both followed with singles up the middle. Tyler Shuck recorded a swinging strikeout to quell the threat, end the game and spark the championship celebration.
"We didn't quit and in the last few innings we put a little pressure on them," Saliba said. "They never quit and they played hard and they are a good group of kids. There are six seniors on the team and those kids are going to be successful somewhere somehow. Some of them are going on to college baseball and some of them are done, but they are all going to be successful."