Dunedin Falls 7-1 To Barron Collier In 6A Regional Final
Dunedin manager Ron Sexton refused to believe the talk he heard regarding his team heading into this year. Despite some doubters that thought this team did not have it in them, the Falcons managed to play themselves into the Class 6A regional championship on Tuesday at Barron Collier.
The dream to reach the next stop came to an end due to a strong pitching performance and fundamental execution that helped lead the host Cougars to the state Final Four with a 7-1 victory.
Barron Collier received five shutout innings from starter Nick Geller and also executed four successful suicide-squeeze bunts to account for more than enough offense.
Yet while the end result was not what they hoped for, Sexton and his club could not help but appreciate all that they had experienced together this year to prove the naysayers wrong.
"I don't know how many teams started four freshmen in a regional championship game. If that doesn't make our fans and our kids excited about the future than I am not sure what would get them excited," Sexton said. "It was this time of year about a year ago that we all heard the whispers that Dunedin is going to be in a rebuilding year. I kept telling the kids not to buy into that. Things had changed, we took a look at the path to get here and we took advantage of that. We went 6-0 in our district and we rebounded when we couldn't close the door in our district championship. I'm very proud that these kids didn't have a losing record overall to go 15-15, and they worked very hard to get there."
Making his 13th start of the year, Geller settled in and hit his spots almost immediately. The right-hander carved his way through the first four innings, working around a trio of walks to keep the Falcons (15-15) off the scoreboard. Geller relied on his offspeed stuff early on, and he made numerous adjustments throughout the game to stay ahead of the hitters by attacking their weaknesses.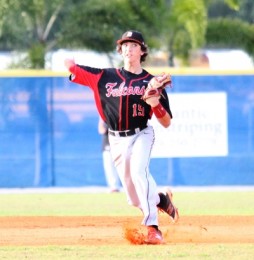 The ability to throw his fastball and curveball for strikes helped lead Geller to his seventh win of the season. Offensively, Barron Collier was successful in plating four runs on suicide-squeeze bunts that were all dropped down to perfection.
"I loved the way they played and how they went about it," Sexton said about Barron Collier. "I applaud their efforts tonight, I applaud the way they play the game of baseball and that is a better baseball team over there. I think in time we have a very good chance to match that kind of level, if we keep working at it. It's a pretty good launching pad this year in a year where we were supposed to be rebuilding. Well, if we were we did it quickly because we got right back to where we were last year. I'm really proud of them not buying into that belief that we were just going to disappear this year."
The Barron Collier offense wasted little time in getting the lead for its ace by jumping out 1-0 in the bottom of the first. Catcher Marc Coffers laced a gap-shot into deep left-center field and then raced around to slide safely into third base with a two-out triple. Logan Langham sent the first pitch he saw back up the middle for an RBI single and a lead the Cougars never relinquished.
They increased that margin with the deciding run in the bottom of the fourth. Jack Bueltel reached on a error, stole second and moved to third on a passed ball and then scored when Brock Nichols dropped down a perfect squeeze-bunt for the RBI. Gabe Noguera added another squeeze-bunt RBI that plated Coffers in the fifth, and the Cougars pulled off that same play two more times during a four-run sixth inning put the final touches on the night.
Dunedin got its first hit of the night in the fifth when John Paul Andrade laid down a nice bunt single. Ray Sass worked a walk to follow to keep things going, before Geller switched speeds and began to pound the zone with his fastball. A ground out and a line-out to left field ended the threat.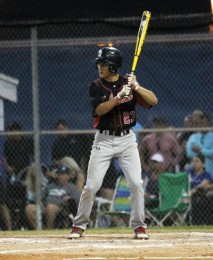 The Falcons avoided the shutout with their final swings, in one final rally attempt. Andrade reached on an error and then raced all the way around the bags to score thanks to an RBI single from Sass on a liner past first and deep into the right field corner.
That fight until the end is another aspect that left Sexton proud of the effort and excited for what the team can do in the years ahead. With most of the team coming back next year, the experience the young team gained with this unprecedented playoff run should only be the start of greater things to come.
"It's huge going forward," Sexton said. "I think you saw a couple of things being the key for them going forward. That senior experience really paid off for them tonight and I think having just a little bit more seasoning and experience helped them in the game, as well as knowing how to close the door and the unselfishness that they had when they had their best hitter in the lineup willing to put down a dang good squeeze."