Jefferson Bunts Its Way With A 4-3 Win Against Sickles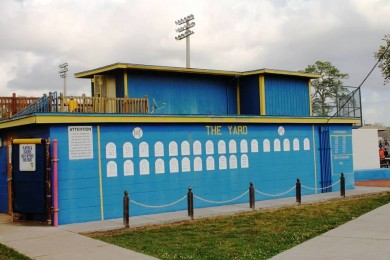 The retired numbers that adorn the outfield wall at the Jefferson Dragons baseball diamond let you know that you are at a special place with decades of baseball history in the Tampa Bay area. The Dragons didn't disappoint the fans that packed the bleachers on Tuesday night. With both teams using the sacrifice bunt to score runs in this tightly-contested game, the bunt helped lead to a 4-3 home victory over Sickles.
The Gryphons (7-13) scored two runs in the top of the seventh inning after new Dragon pitcher John Rodriguez gave up three singles and a walk. Jonathan Oddson scored on a wild pitch and shortstop Dylan Eskew scored on a single from catcher Mathew Lewis. That evened the score at three apiece.
The Dragons scored the winning run after center fielder Robbie Martin collected his second hit on the night when he doubled off the fence in center field. After two base on balls, Martin scored on a beautiful bunt down the third base line. Sickles' infield tried to make a play but the throw sailed over the catcher's head to end this close contest.
"We just seem to win most of our games in dramatic fashion for some reason," said Jefferson manager Juan Fontela. "The main thing is they are having fun."
Luis Correjter scored the first run after getting a single and moving to second on a sacrifice bunt by left fielder Andrew Mathis in the bottom half of the first inning. The Gryphons starting pitching gave up two consecutive base on balls and first baseman Jack Rodriguez put down a beautiful sacrifice bunt that found it's way to the left side of the pitchers mound. After two throwing errors by the Sickles infield, the Dragons (8-12) plated two more runs to take a 3-0 lead.
That lead held up until the fourth inning, when Sickles got on the board when designated hitter Daniel Bernstein roped a single to the left field wall and scored on a wild pitch from the Dragons freshman starting pitcher Mike Dominguez. That was all Dominguez gave up in a solid six innings of work.
Dominguez worked the corners of the plate like a seasoned professional. He put in six innings of work with eight strikeouts, three walks and only three hits, while giving up one run.
"Catcher Christian Milian called a great game for me," said Dominguez. "I was able to throw my fastball and follow it up with my breaking ball to get the calls tonight."