Brandon Wins Eight-Inning Battle Against Mitchell 1-0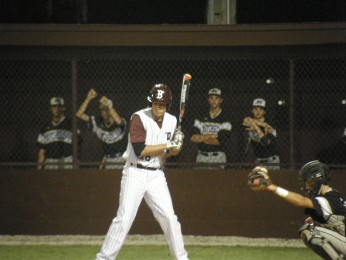 Two of the best pitchers in the Tampa Bay area faced off in Wednesday's quarterfinal matchup in Brandon. Brandon pitcher Antonio Velez (9-2) and Mitchell sophomore pitcher Jacob Mattos (7-2) dueled for eight innings, with neither one wanting to let their team's season come to an end.
Velez helped his team with a single in the bottom of the eighth inning to push Tyrik Ball across the dish to win this epic battle 1-0.
The Eagles (20-6,8-1) advance to the regional semifinals next week.
Velez struck out six Mustang batters and surrendered only four hits, with a fastball that was pounding catcher Jerry Biller's glove for eight innings and finishing the Mitchell hitters off with a change up and breaking ball that kept the hitters mystified all game long.
"I was locked in tonight with one thing on my mind to keep them off the bases," said Velez.
With a pickoff move to first that caught Mustang outfielder Justin Koehler leaning their was no extra bases to be had on that night.
"We were able to play a great game behind Velez tonight," said Brandon Manager Matthew Stallbaumer. "I'm really proud of the way these kids played defense tonight."
Mitchell pitcher Jacob Mattos was just as good as his senior counterpart. Surrendering only six hits Mattos had his way with the Brandon batters also. No walks were given up by either pitcher. Mattos' only mistake came in the bottom of the eighth inning when he hit center fielder Tyrik Ball with an inside fastball.
A sacrifice bunt by second baseman Teddy Flynn pushed Ball to second base followed by a infield out that would advance Ball to third base. Velez jumped on the first pitch, which was fielded deep in the hole in the infield, but the hustle from Velez beat the throw for an infield single to bring Ball across the plate to claim the victory.
"We just couldn't do enough to score a single run against Brandon," said Mitchell manager Scott Wilcox. "Velez had his way with our hitters and base runners tonight."
Designated hitter Kyle Blakely had two of the four hits off of Velez for the Mustangs (22-7).
Tyler Saladino was able to get two hits off of Mattos, going 2-for-4, and left fielder Louis Casanas also accounted for two hits for Brandon.