Osceola Warriors Manager Stefan Futch Wins Number 300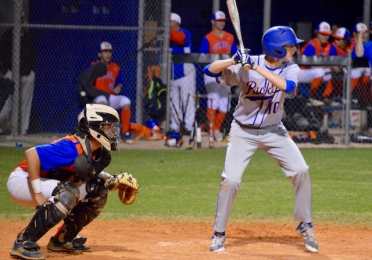 Tuesday night ended in an ice-cold Gatorade shower for Osceola manger Stefan Futch, after the Warriors defeated Largo 5-0 for Futch's 300th career coaching win.
Eighteen long years ago Futch won his very first game. Many players, parents and assistant coaches later, the Warriors manager celebrated an extremely special win, being sure to thank those who helped him along the way.
"It takes a long time, with really good players, parents and assistant coaches, to make this happen," said Futch. "Being a part of high school baseball this long is really special."
Futch started his career at Saint Petersburg High School, winning 195 games and a couple of district titles with the Green Devils. In 2011 he took over as Osceola's manger and continued his march to the history books. The home crowd congratulated their manager with a standing ovation and Warrior players shook their leader's hand one by one.
After the game players had nothing but positive things to say about their longtime manager, saying that getting him the win was on their minds.
"I knew he was getting close; just last night after practice I was thinking about it," said shortstop Chase Achuff, "I tried not to think too much about it during the game. I tried to just get out there and play my game."
Other's said they weren't really aware that they were playing for history, but they were very proud to be a part of such a special night for their manager.
"I didn't really know until they announced it, but I am really glad I was apart of it," said catcher AJ Rivera.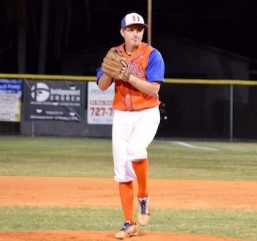 Number 300 was a seamless victory for the Warriors, shutting out the struggling Packers. Three Osceola pitchers combined to hold Largo to just one hit on the night. Offensively, Osceola was clicking on all cylinders as well.
Scoring started in the bottom of the second when left fielder Garrett Cook had a two-out single, bringing in two runs. The Warrior's tacked on two more in the third, on a single by designated hitter Isaac Al, bringing in Austin Keene and Achuff, who had a monster double earlier in the inning. The final run came in the fourth, after Rivera put third baseman Jeremy Adams in scoring position with a perfectly-executed sacrifice bunt. Adams scored on a throwing error one play later.
Largo struggled all night on defense and on offense. Packer's manager Sean Brown voiced his frustration after the game saying they were outplayed.
"They threw strikes, made the plays and had timely hits, " said Brown. "I give credit to their pitchers; it's really tough to win when you only have one hit on the night."