Carrollwood Day Rides Big First Inning Past Cambridge Christian
On a beautiful spring day in Tampa Bay, Carrollwood Day wasted no time in taking care of business winning their fourth straight game with a 13-4 district victory over the Lancers. The Patriots (6-3) scored a total of seven runs on three hits in the first inning.
"We have a bunch of young kids on this team," said Patriots manager Eric Hernandez, whose team improved to 4-0 and tied for first place in 3A-4. "They understand this is baseball and they need to have fun and just play our game."
Eleven batters came to the plate in the top of the first inning. After a lead off walk to third baseman Rodrigo Montenegro, he then stole second on the first pitch from Lancers starter Josh Mendoza to catcher Nick Torres. Torres singled to push Montenegro to third base and center fielder Gabriel Montenegro smashed a single to center field to score his brother Rodrigo for the first of many runs on the afternoon.
Torres moved to third on the hit and scored on a wild pitch. Gabriel Montenegro stole second and third base in the top of the first as the Patriots stole a total of five bases in the first inning.
After Devon Connors walked and stole second base he was then sacrificed to third by the Patriots sophomore starting pitcher Andre Hevesy, who singled to right field on a letter-high fastball across the plate. After an RBI single by outfielder Frank Furby, he then stole second and scored the sixth run of the inning on an RBI single by second baseman Blake Hooker.
Cambridge Christian led off the bottom of the first inning with a walk to left fielder Caleb Farris. After a sacrifice fly by designated hitter John Holk, Farris moved to third base and scored on a single by third baseman Austin Carter.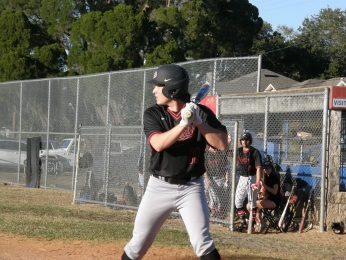 Mendoza settled down after the first inning stumble and the Lancers defense got behind their starter as the next three innings remained quite. Cambridge Christian gave up the eighth run of the game in the fifth inning when Patriots starter Hevesy was hit by an inside curve ball that didn't quite break to it's spot across the plate. Hevesy was hit four times in the game to go with his first-inning single.
Hevesy scored two runs and had two stolen bases on the day to help his own cause to also get his fifth victory on the season.
"I had a problem in the first inning keeping the ball down," said Hevesy. "I told myself to follow through with my pitches and I was able to keep the ball down and place it where I needed to so I could throw strikes and let my defense work behind me."
Frank Furby came in the top of the fifth inning to face the Lancers. The Lancers led off with a single by highly touted shortstop Orlando Arevalo, who advanced to third base on a fielders choice. Holk singled and moved Aravalo to third base. After an RBI single by Austin Carter, Furby was able to shut down the scoring.
Jacob Kruger came in to the game in the fifth inning after Mendoza's day was finished after giving up eight runs on six hits.
"We have tried to make the pitchers understand to let their defense work behind them," said Lancers manager Stephen Piercefield. "They don"t have to strike out every batter they face."
Carrollwood Day plated four more runs in the sixth inning. After back to back singles by Gabriel Montenegro and Devon Connors they scored on an RBI single by Furby. They added another run on a sacrifice fly to deep center field by Brian Hoover. They scored one more run in the top of the seventh to finish with a very respectable 13 runs on 10 hits.