Northeast Wins Big In Tough District Match Up With Mitchell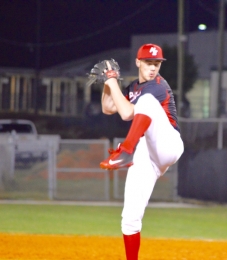 The Northeast Vikings emerged victorious 9-5 in a 7A-10 match up against the Mitchell Mustangs under the lights Friday night, maintaining their perfect home record with their fourth home win.
Patience at the plate and using "small ball" techniques were key to Northeast's success. Offense was on display for both teams. The Mustangs had 11 hits and the Vikings recorded 10.
Scoring started in the bottom of the third inning, when first baseman Derek Jaar hit a single to the left-center gap to bring home center fielder Kobe Hartley. Northeast piled on three more runs in the frame and set the tone for the night.
Mitchell answered quickly in the fourth inning, scoring five runs of their own. Second baseman Trevor Foggia, the heart of the Mustang's batting order, sparked the team with a perfectly-executed bunt down the third baseline that resulted in a throwing error and two runs scored.
Leading off the bottom of the fourth, Northeast second baseman Cameron Cooper beat out an infield hit and scored two batters later from first base, tying the game at five.
"I was nervous at first that I wasn't going to beat it out, but half way down the line I knew I had it and beat the throw by two or three steps," Cooper said.
The Mustangs never got anything else going offensively and struggled on the mound the rest of the night. It was something Mitchell manager Scott Wilcox said was odd for them.
"We didn't have a good night defensively or on the mound, then our bats fell flat," said Wilcox, "Its a tough loss but sometimes you have those nights."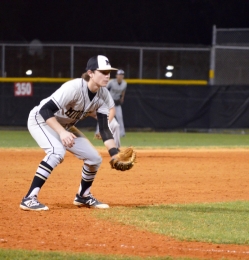 Northeast was patient at the plate, taking advantage of Michell's struggles on the mound. After drawing back-to-back walks in the bottom of the fifth, a bunt down the third baseline from pinch-hitter Luke Bannister and a throwing error by the Mustangs brought in the two go-ahead runs.
After tacking on two more insurance runs in the sixth, Northeast handed the ball to closer Ryan Quinlivan to finish the game.
"I did what I always do, shut down the batters," Quinlivan said. "I was just doing my job."
Vikings manager Rob Stainer was proud of his team, recognizing that taking advantage of a game like this is key to a great season.
"There were two really good teams on the field tonight, and to score this many runs against a great team is special," said Stainer, "We made one less mistake then they did; that's what it came down to."